Clinique invites you to take it all off.. for a good cause!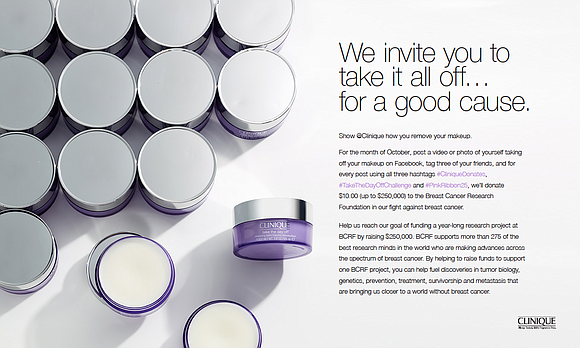 Starting TODAY, October 6th, 2017, Clinique is challenging America to take it all off during the month of October. No, not your clothes.. Your makeup! And we're inviting you to help us make this challenge a huge success.
Here how it works: We are asking influencers, consumers, friends and colleagues to show @Clinique how you remove your makeup. Post a video or photo of yourself removing your makeup on Facebook and challenge three friends to join the cause with you. For every post using all three hashtags #CliniqueDonates, #TakeTheDayOffChallenge, and #PinkRibbon25 we'll donate $10.00 (up to $250,000) to the Breast Cancer Research Foundation in our fight against breast cancer.
You can use any makeup remover or method you like – Clinique products are not required, although we would love for you to use your favorite Clinique Take The Day Off product!
So, please join us by posting a video, tagging your friends, and spreading the word. Tell us in the post how you feel showing your most authentic, makeup-free self. You can also dedicate your video to a women you know who has been affected by breast cancer and share her story.
We want to keep this challenge going – and growing – throughout the entire month of October. Help us reach out goal of funding a year-long research project at BCRF by raising $250,000. BCRF supports more than 275 of the best research minds in the world who are making advances across the spectrum of breast cancer. By helping to raise funds to support one BCRF project, you can help fuel discoveries in tumor biology, genetics, prevention, treatment, survivorship and metastasis that are brining us closer to a world without breast cancer.
Let your mascara run, your lipstick smear, your brown come undone. The messier and more transformation the post.. The better!
Thank you in advance for all of your support. Together, we can make a difference!