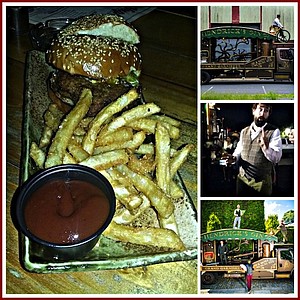 In celebration of World Cucumber Day Hendrick's Gin debuted its Grand Cucumber Garnisher by launching a city-to-city tour throughout the United States. The tour began in New York City and made it to Houston before the end of the year. The motorized cucumber slicing machine is 38 feet long, has a hybrid powertrain, can travel up to 25 miles per hour, and slice up to 18 cucumbers in 60 minutes.
Heights Bier Garten, located at 1443 Shephard Drive in the Heights area, had a full house of curious patrons who were introduced to the giant cucumber slicer by Brand Ambassador and Mattias Horseman, who handed out cocktail samples that were garnished with a freshly cut slice of cucumber from the Garnisher. The libations were delicious and were just enough to tickle our appetites for dinner.
Our eyes gazed over the menu, which is rather impressive for a place that is known more for its 94 on tap craft beers. They also have an open patio concept that divides the restaurant and features two bar areas, one for the beer enthusiasts and the other for the cocktail lovers.
My guest and I opted for the Fried Chicken Sandwich, which in my view should have the word "Gourmet" as the first word in the title. This sandwich is made with a fresh chicken breast that is seasoned, battered, and fried until golden and crisp. It is served on a Sesame Challah bun, green tomato relish, and Jalapeño buttermilk dressing. The meat was well-seasoned, tender, and juicy; the bread was slightly toasted, which complimented the flavors in the chicken. We added fries to our order, but the sandwich did not need any company.
Additionally, we enjoyed our meal on the patio that is also pet-friendly. Therefore, The Heights Bier Garten is a one-stop shop for food, fun, cocktails, craft beers, and pets. They are open seven days a week, until 2:00 a.m. Visit their website: http://heightsbiergarten.com/, download their menu, and plan your visit.
Learn more about Hendrick's Gin by visiting https://us.hendricksgin.com/. To learn more information about The Hendrick's Grand Garnisher visit https://us.hendricksgin.com/grand-garnishers/. Also, while on their site check out some of the recipes for delicious cocktails that feature the unusual gin.
Thanks for reading.