GregAlan Williams Tapping Into the Heart of Women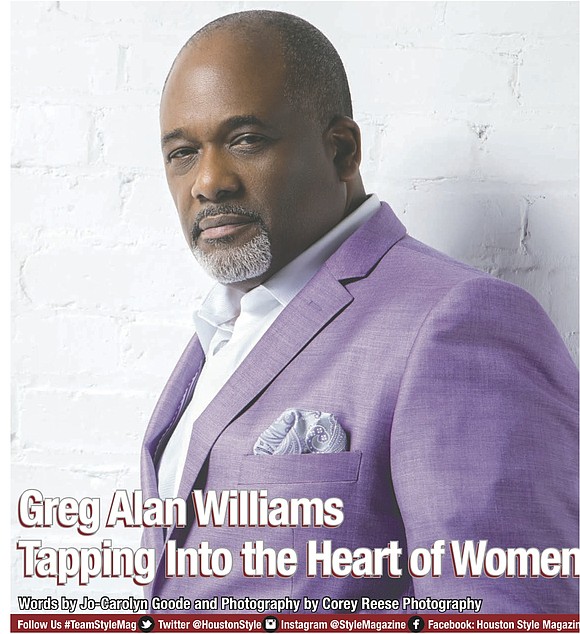 Every time GregAlan Williams takes on a role he has the same goal every time, to be believed. "If I am believed, I'm good," said Williams. With the encompasses over 20 films, more than 30 television shows, and even some video games, we have been believing Williams as an actor for years. Just as long as he has been acting, he has been writing. And he now merges his talents in his re-released book, Heart of Woman.
As a child, Williams was taught to be an actor by his mother and she also taught him to write. Not just write but rewrite to make sure the final draft of any composition was the best. Although he would have rather been outside playing basketball, he appreciates the hand his mother played in developing him as a writer. His first real writing gig was for a magazine called Right On where he had to write about the teenage crush of a young Kim Fields who admired fellow actor Todd Bridges. From that first puppy love story to now authoring several books, Williams is living out his dreams.
The Iowa native has always been an avid reader and fell in love with the art form when he was teenager reading works by E.L. Doctorow. " Dr. Doctorow has this way of mixing his characters with historical characters," said Williams. Following the path of Doctorow, Williams blends fictional characters with people that are widely known and events that really happened in his books.
Written in 2004 and first published in 2009, Williams is releasing the book now as an audiobook. The story comes to life as Williams voices all the characters. "An aaudiobookis a real challenge," said Williams. "It took me about 16 hours or a little more to voice the entire book. I had been looking forward to combining my skills as a writer and as an actor and this was the right time."
His book, Heart of the Woman, is set when Motown was at its prime. Williams uses the real life case of Dr. Ossian Sweet as the backdrop for his story. Sweet was an African American doctor living in an all white neighborhood in the 1920s. Some people like the mob didn't like that and wanted him. Sweet, who was known for being armed, was defending his family and property when one of the mobsters was killed. Sweet was subsequently, along with his friends, charged with murder. The NAACP heard about his case called famed lawyer Clarence Darrow to defend him. After many months, Dr. Sweet and his friends were acquitted. Readers will have to get the book to see how Williams puts his own twist on that.
Making it even more intriguing is the insertion of characters like Marvin Gaye, Smokey Robinson, and Teddy Pendergrass in this tale of love and murder that highlights men's fear of intimacy and the loving possibilities that await every woman's heart making for a story that will have readers laughing and hanging on every word.
"I wanted to write a book that not only celebrates that time but celebrates the kind of relationships that those women of a certain age would have had by now marriages and very deep romantic relationships. And to explore some of the complications that come but more importantly some of the understanding that comes when we go through things. We survive things. And we have a deeper understanding of how life works and love works," said Williams. Men don't let the title mislead you. There is plenty in the story to capture your interest as well.
Just when Williams has readers hooked, there is more up his sleeve. He has already started work on the sequel to Heart of a Woman. This time the story in set in the 1970s. He will release both the book and audio book in 2018.
As far as acting projects, he's got plenty of those as well. Look for him in an upcoming episode of Chicago Med as the husband of S. Epatha Merkerson's character and in the third installment of the God Is Not Dead franchise.
Heart of a Woman is available wherever books are sold and makes the perfect gift.