What Makes the Perfect Road Trip for African American Families?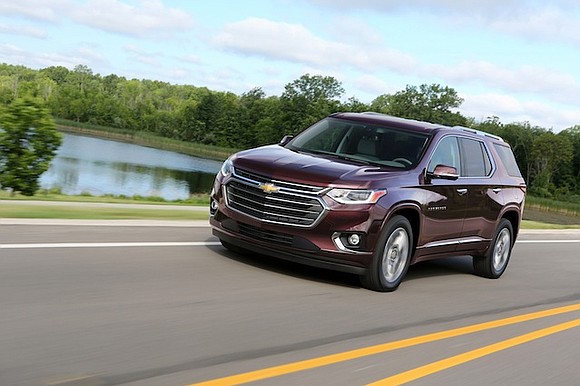 In time for holiday travel, Chevrolet and Harris Poll asked parents about road trips and what makes them great. The holiday season can be stressful – celebrations and parties, cooking, gift shopping and much, much more. Getting there does not have to be the worst part.
"The vehicle is the new family dinner table, where memories are created and bonds grow strong," said Steve Majoros, director of marketing, Chevrolet Cars and Crossovers. "As families prepare to hit the road this holiday, to spend time with friends and family, they can depend on crossovers like the 2018 Chevrolet Traverse and Equinox to meet their needs - from storage space to USB outlets, available 4G LTE Wi-Fi and Apple CarPlay and Android Auto compatibility."
The Harris Poll uncovered various preferences of African American parents as it relates to road trips including the ideal length, favorite ways to past time, and choice of vehicles.
Ninety-nine percent of African American parents surveyed said they enjoy road trips. But what is it about road trips they love? Almost all who took road trips growing up said they have many fond memories from childhood that took place on a road trip. Continuing this tradition for families can be a great way for parents to spend time with, connect and enjoy the holidays with their children, they said.
Is there a "perfect" road trip length?
The survey showed African American parents believe six hours is the perfect road trip length. Whether taking a winter vacation or traveling to visit families, 86% of parents said their favorite way to pass time during the trip is by listening to music as a family, followed by talking (81%) and watching or listening to a movie or TV show (52%). With the amount of technology and infotainment within vehicles today, both parents and children have plenty to do, which allows for longer road trips.
A look at the love for the family road trip
Chevrolet wanted to know: what are parents' favorite part of holiday road trips? Almost all those surveyed said their favorite part is spending time with family (92%). Other favorites were exploring and stopping at interesting locations and destinations and unplugging from everyday life. Outside of the day-to-day, it is important for families to unplug and spend time with one another and as indicated, this happens when families take road trips.
What kind of vehicles are best?
When asked what made the ideal road trip vehicle, the majority of respondents indicated they would prefer an SUV over any other vehicle, followed by a large SUV with three rows. Vehicles like the Chevrolet Traverse and Equinox allow for comfortability when taking road trips with children and also incorporate advanced technology and infotainment within the vehicle to make the drive enjoyable along those six hours.
Technology and its impact
Chevrolet asked respondents what is on their wish-list for better road trips and as traffic levels are projected to increase during the upcoming Thanksgiving travel week, African American parents indicated that in-vehicle technologies can improve the family road trip experience. Parents said that in-car Wi-Fi and internet connectivity would make holiday road trips more enjoyable for the family. Technology offered in vehicles like the all-new Chevrolet Traverse can give parents added peace of mind when hitting the road.