Tiffany Haddish: Laughing Her Way to Stardom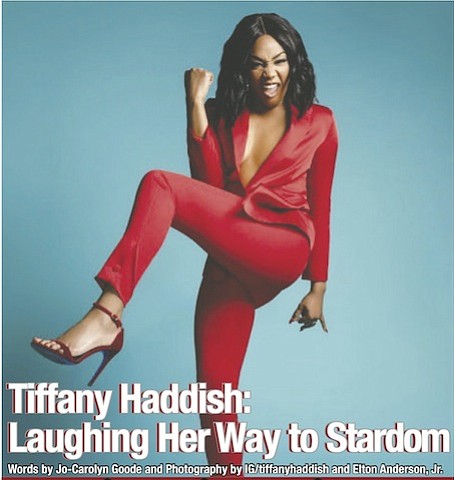 Laughter is the best medicine and that could not be truer than for actress, comedian and now author Tiffany Haddish. After a horrific accident that left her mother with severe brain damage, a young Haddish found herself raising her four siblings and in foster care in the poorest part of South Central Los Angeles. She was not the best student and was often in trouble. People were ready to give up on her until divine intervention struck when her social worker sent her to the Laugh Factory Comedy Camp where she took her pain and used comedy as therapy to find her true passion.
"Other people and things can stop you temporarily. You're the only one who can do it permanently," wrote Haddish on her Twitter. Her life has not been a fairy tale and it was certainly filled with many situations, including that of being homeless and living in her car, that could have stopped her in her tracks. But instead seemed to just made her push herself more to succeed. And now she has come from the hood to Hollywood and she couldn't be more ready.
Life is sweet now for the 37-year-old who just made history as the first Black female comedian to host Saturday Night Live in the 43 seasons the show has been on air.
Starting out in comedy clubs, her first big break was on "Bill Bellamy's Who's Got Jokes?" From there she did a string of guest appearances on a variety shows, played in the supporting cast of a few sitcoms, and had some other roles in a few movies. Her performance in the $100 million grossing "Girls Trip," alongside Queen Latifah, Jada Pinkett Smith, and Regina Hall, would make her a household name.
Stepping all the way in the spotlight, it was just announced that Haddish would star as the lead in two upcoming films. Haddish will take a dive in the comic book realm in the film "The Kitchen." The project based on the series by Ollie Masters and Ming Doyle for Vertigo. Andrea Berloff makes her directorial debut in this 1970s New York Hell's Kitchen flick of the Irish mafia. An FBI raid locks up all the men, leaving their wives to hold down the business dealings. Haddish's second film links her back up with director Will Packer in "The Temp." She will also serve as executive producer on this project. And that is not all. Haddish also has roles in Tracy Morgan's new show "The Last OG" on TBS, Universal's "Night School" with Kevin Hart, and "Limited Partners."
Haddish has shown the world that she is indeed the funniest woman alive as a comedian, actress, and producer. She is adding one more talent to her growing resume, author. Just in time to be the perfect Christmas gift, Haddish is releasing her new book "The Last Black Unicorn" this December. Described as a sidesplitting, hysterical, edgy, and unflinching collection of (extremely) personal essays, Haddish reveals how humble, grateful, and down-to-earth she really is through the power of laughter.
Yet, there is still another project up Haddish's sleeve, Her multicity comedy tour, She Ready. Unfortunately, the tour doesn't make a stop in Houston. But if Houstonians gas up the ride and make a three hour drive they can see Haddish on stage in Austin, TX on April 21, 2018. For more details and tickets, visit tiffanyhaddish.com.
2017 has been really good for Tiffany Haddish and it seems 2018 will be even better. Whatever comes her way one thing is for sure 'She Ready.'