Judge Al Bennett: A Role Model of Integrity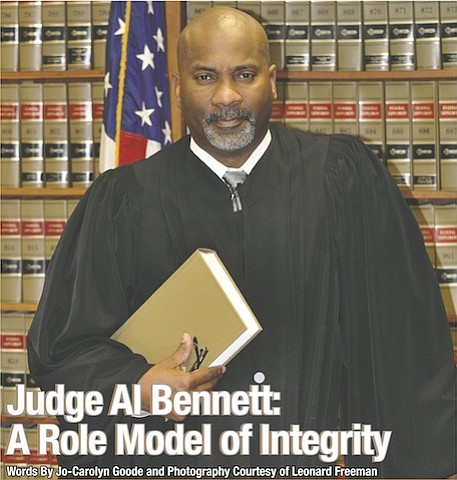 Many doors of opportunity were opened for him. The biggest one came when then President Barack Obama was the one with his figurative hand on the door when he appointed Bennett as a United States District Judge. "It is extremely
humbling to have the President of the United States call you into public
service. The fact that he was the first African American president is icing
on the cake," said a proud Judge Bennett.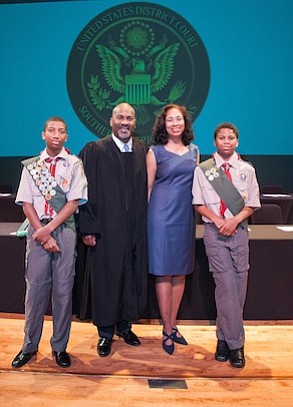 Sprinkled throughout his career are numerous career highs, countless achievements, and case wins. But all that means nothing if he couldn't have the love of his family. Family is everything to Judge Bennett. In fact, they come first before he does anything else. He has two sons with his wife Tanyel, who is also his best friend. They are the support system that makes him proud to call them his family and keeps him grounded to be able to do what he loves.
For Bennett, L stands for loving law. He practices it. He has taught it. He lives it. And though he knows everyone has their own issues, whether positive or negative, with the justice system he wishes that citizens would gain a better understanding of it for more than just their rights. "As a nation, we need to do a better job teaching civics so citizens can better understand how their government (specifically the judicial branch) works so they can make better decisions on the election and selection of public officials, specifically judges and district attorneys," said Judge Bennett. "An informed engaged citizen makes for a stronger nation."
Judge Bennett is committed to the cause of making sure citizens are informed and volunteers regularly with the Houston Lawyers Association, Houston Bar Association, the National Bar Association, and the State Bar of Texas to aid in those efforts. In addition, Bennett invests in the development of future generations by devoting a large amount of time to the Boy Scouts of America serving as a member of the board of directors for the Sam Houston Area Council and an assistant Scoutmaster with Troop #242.
Whether in the halls of justice or the streets of the community, Judge Al Bennett will always be a "model of integrity."
Event Details
2017 Spouses of Houston Barristers' Ball
Friday, November 10, 2017
7 PM
Royal Sonesta Hotel – Houston Galleria
For more information, visit www.shbinc.org