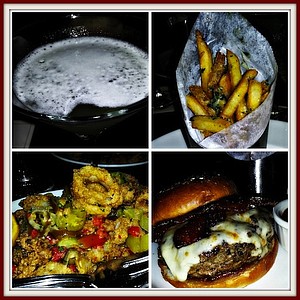 Beginning now until November 19, 2017, The Capital Grille is offering its Wine and Wagyu menu for only $25 dollars in The Lounge. The Wagyu Burger selections are The Grille's Wagyu Cheeseburger, Caramelized Onion Wagyu, and a Waguy Bacon Cheeseburger. The wine selections are Caymus, which is a Cabernet Sauvignon Emmolo, a Merlot, and Belle Glos Las Alturas, a Pinot Noir.
For this tasting, we returned to The Capital Grille located in City Centre, where Executive Chef Jeffrey Meyer was on hand to make our visit as special as always. We started our tasting with a shared plate of the Capital's signature Fried Calamari and a round of Stoli Doli's. The Calamari is coated lightly, pan-fried until crispy and golden, served with hot cherry peppers, and then devoured by this writer and a guest.

The Stoli Doli is simply the Grille's pineapple infused vodka that is kept on the bar in the lounge area and served cold. If one doesn't try anything else when visiting this place, it is worth the trip to sit in the elegant lounge, take in the classy atmosphere, and sip on a Stoli or two and have a plate of the calamari. The Stoli has a clean and refreshing taste; it complements the squid and calms down the heat of the peppers in my view.
We saved room for our burgers and I opted for the Wagyu Bacon Cheeseburger, which is made with "Candied Applewood Smoked Bacon and Vermont Cheddar." My guest opted for the Caramelized Onion Wagyu Burger. We both had our burgers prepared medium-well, and they arrived on our plate accompanied by some truffle French Fries. The burgers were juicy and packed with flavor; the bacon and cheddar played well together and the portions were just right. The French Fries were cooked perfectly. They were crispy, seasoned just right, and we were so full.

Though we decided to pass on the wine, and opt for a second round of Stoli's, one can access by reading the menu that the pairings were well suited for the burgers we tasted. The Caymus is from Napa Valley, 2015, and is made by Chuck Wagner. The Merlot is from Napa Valley, 2013, and was made by Jenny Wagner. Finally, Pinot is from Santa Lucia Highlands, 2015, and was created by Joe Wagner.
Learn more about the wines and the menu by visiting thecapitalgrille.com/events/wagyu-burger-and-wine-pairing. Watch the videos, read the menu, then make your reservation, and enjoy your meal.

Thanks for reading, and please continue to follow Team Style Magazine on Facebook, Instagram, and Twitter.