Houston Astros Are 2017 World Series Champions
Astros win first World Series Championship in franchise history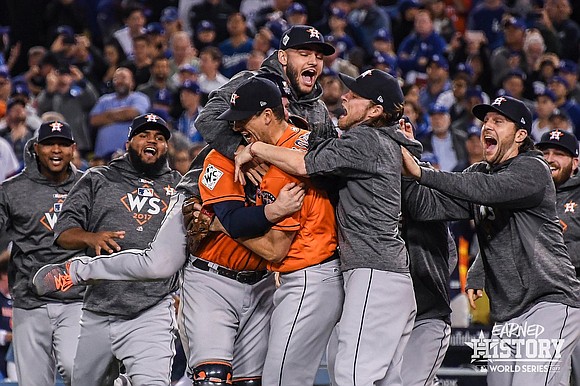 HOUSTON, TX-- With tonight's Game 7 win over the LA Dodgers, the Houston Astros are World Series Champions for the first time in franchise history. Prior to this season, the Astros had gone 55 years without a World Series Championship and had appeared in only one other World Series (2005). The Astros defeated the LA Dodgers by a score of 5-1 tonight at Dodger Stadium.
ASTROS TEAM STORE OPENS FOR 24-HOUR WORLD SERIES CHAMPIONSHIP EVENT
Today's win officially kicks off the Astros Team Store 24-Hour World Series Championship Event. The World Series Championship Event will open one hour after the final out at the Union Station Team Store and will remain open to the public for 24 hours. This special retail event is the very first opportunity for Astros fans to purchase their 2017 Astros World Series Championship merchandise.
The Astros Union Station Team Store will host several special activities throughout the shopping event, including hourly drawings, gifts-with-purchase, free coffee and doughnuts, games, merchandise giveaways, and a grand prize of a $500 shopping spree at the Astros Team Store.
Information regarding the Astros World Series Celebration will be available in the coming days.