Everything You Need at Taret for Under $25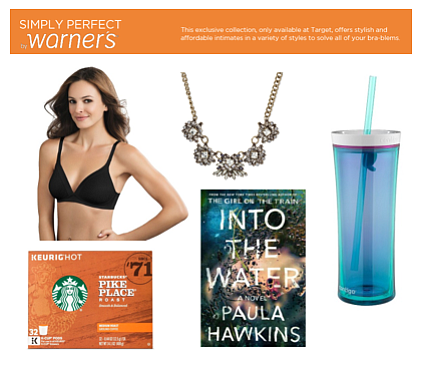 Who hasn't gone to Target for a quick errand to pick up soap or a new toothbrush, before finding yourself walking out with a cart full of everything the store has to offer. Streamline your next shopping trip by making a list of essentials, all under $25, before entering Target.
· Pick up the Simply Perfect by Warner's® Women's Back Smoothing Wire-Free with Lift Bra (only $16.99), with all of the "brablem"-fighting benefits that Warner's offers without breaking the bank.
· A statement necklace can bring a little bit of shine to every summer top. The SUGARFIX by BaubleBar™ Crystal Bib Necklace ($19.99) adds just the perfect amount of sparkle.
· Coffee, YES PLEASE! Get a 32 pack of Starbucks K-Cups for just $23.99 at Target.
· Love The Girl on the Train? You are in for a special treat. Author Paula Hawkins just released her newest book, only $19.99, along with many others in Target's library.
A new tumbler cup that doesn't leak or spill – just what we need. The Contigo® Shake & Go™ Tumbler provides ($14.99) and easy, no-mess way to enjoy your favorite drink.