Life Coach and Relationship Recovery Expert Dr.Sonja Stribling Presents The "SinglesRus™" Conference In Atlanta, Ga July 27 -29, 2017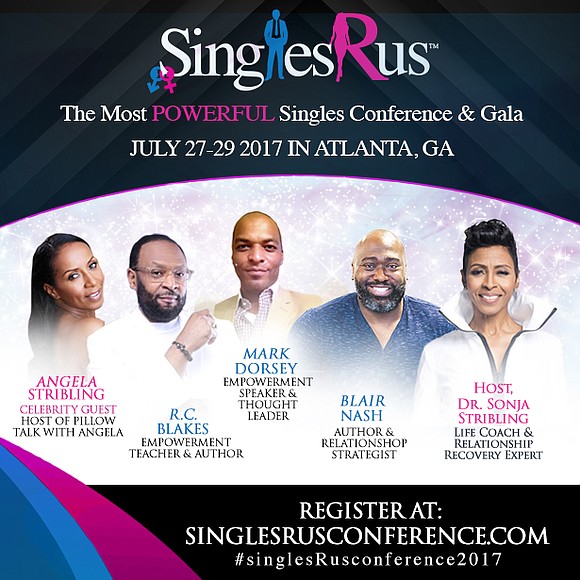 During the 3-day conference, Dr. Sonja Stribling will assist singles with their internal questions and she and her panelist with assist with answers that will help guide one on a clear path by letting them know that they are not alone. "Many people who hold such events are normally married and don't completely understand what it is really like in these streets of being single," explained Dr.Sonja. "Marriage is not the answer if you aren't healthy and whole as a person." stated Dr. Sonja. Dr. Sonja and her expert guest speakers will discuss topics such as:
The Process of Dating in 2017
How to Prepare For Your Future Husband
How to Prepare For Your Future Wife
The Proverbs 31 Man
Things You Need to Know Before Falling in Love
Overcoming a Broken Heart & Loneliness
Powerful Ways to Embrace Your Singleness
Being Single & Saved
The Value of Your Identity
Life After Divorce
The Things We Wish Our Parent Would Have Taught Us About LOVE, SEX & WAR and much more!!
Attendees will leave with tools, tips and strategies on becoming individuals who win in relationships.
In addition to the "SinglesRus™" conference, Dr. Sonja Stribling is currently gearing up for 2017 The Building Your Empire Conference. Dr. Sonja Stribling was just awarded with the prestigious Barack Obama Presidential Lifetime Achievement Award on April 29, 2017. For more information and updates about "The SinglesRus™ Conference" visit www.SinglesRusConference.com.
About Dr.Sonja Stribling
Affectionately known as Dr. Sonja, Relationship Recovery Expert and Transformation Specialist; Dr. Sonja Stribling is a licensed clinical faith-based counselor who specializes in empowering women to discover their inner "POWER" to ascend to the next level in their relationships, business and life. As the CEO & Founder of "Next Level Living 7.0 Institute", which is the home of her signature programs, Next Level Women 360 and PREP for Your Future Husband, Dr. Sonja emulates a "Next Level Women" and how she lives and is perceived after being "broken". After surviving divorce of an 18-year marriage, she has become a Certified Divorce Coach, primarily dedicated to helping women navigate through the transitions of their lives. With recognition from over 3-million individuals world-wide, Dr. Sonja's popular periscope & facebook sessions continue to encourage women to live by her motto "Be Better and not Bitter".
In addition to being a respected relationship expert, transformation specialist and divorce/life coach, Dr. Sonja is one of the most sought after empowerment speakers in the nation. She is a master of encouraging women to be resilient and developing the mindset to forgive and move forward in life. Dr. Sonja's belief is that "A women can have a next level mindset, make next level commitments, create next level actions, which will ultimately result in Next Level living".
Dr. Sonja, a former semi-pro basketball player and 21-year Army retired highly decorated combat veteran, is committed to empowering women. Dr. Sonja is currently available as a keynote speaker for empowerment and inspirational events.