Life Coach and Relationship Recovery Expert Dr.Sonja Stribling Presents The "SinglesRus™" Conference In Atlanta, Ga July 27 -29, 2017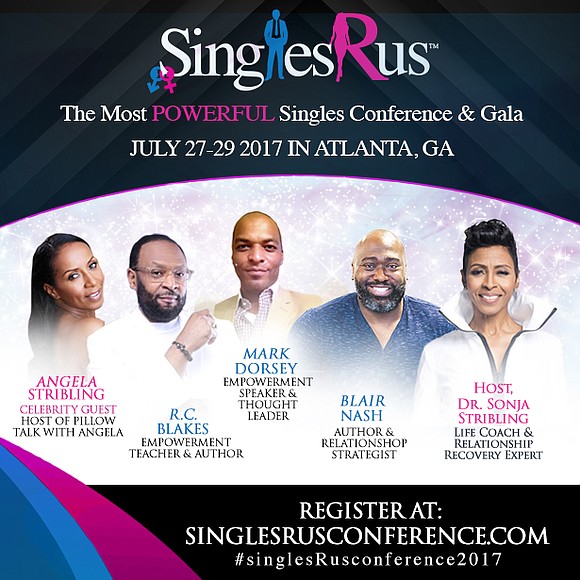 (May 9, 2017- Atlanta, GA) On Thursday, July 27 through Saturday July 29, 2017, Life Coach and Relationship Recovery Expert, Dr. Sonja Stribling, will present the Inaugural "SinglesRus™" Conference and Gala. The aim of the conference is to empower men and women to understand their purpose, power & position as a single in 2017. Taking place at the Renaissance Atlanta Waverly Hotel & Convention Center (2450 Galleria Parkway, ​Atlanta, Georgia 30339) the conference will offer workshops, panel discussion, and VIP treatment. The Gala will consist of live music, an elegant dinner, and more. "SinglesRus™" will be a one of a kind experience for men and women who want to live and love again. For the first time single men & women can come together and discuss the issues, concerns, the highs and lows most singles have that aren't being addressed openly. Some of the conference's elite speakers include:
Angela Stribling
Host of "Pillow Talk With Angela on WHUR Radio and Sirius/XM
With her distinctive voice, appealing beauty, smoldering spirit and a heart with room enough for all, she's internationally adored and a precious jewel of the Nation's Capital. Angela Stribling has arrived at a place in her career akin to an Empress of Media. She has indelibly captivated eyes, ears and imagination in her roles as television host, radio broadcaster, evening news anchorwoman and voiceover professional. She is remembered for her class and grace served daily on Black Entertainment Television (BET). Angela is presently adored by many listeners as hostess of the very engagingly sexy late night radio show "Pillow Talk With Angela" on 96.3 WHUR and Sirius/SM Channel 141.
Blair Nash
Author and Relationship Strategist
Blair Nash is a Relationship Strategist, Speaker, Dating Coach, and Author of the critically acclaimed book "Illuminating the Battlefield" authored his sophomore release, titled "LOVE IS A BEAUTIFUL THING….TILL IT AIN'T". His most recent release, aptly titled "A LIFETIME OF RELATIONSHIP LESSONS: What Your Girls, Grandma & Auntie Never Told You" takes a very brutal approach to many of the dating flaws & struggles many of us face. Blair is also creator of the "Couple Of The Month" series, an online platform focused on highlighting the profiles of successful couples from around the country via social media. He is dubbed as "the next Steve Harvey/Michael Baisden" as he can explain you why guys flip the game and make women chase them, how to rid yourself of your ex forever, and even what to do if you think your mate is stepping out on you.
R.C. Blakes
RC Blakes Jr. has been in ministry thirty three years and has been pastoring for twenty nine years. He serves as the Senior Pastor of the New Home Family Worship Center in New Orleans, Louisiana and Houston, Texas. He has a Masters of Theology from Christian Bible College of Louisiana and is a nationally sought after teacher of the word of God, as well as, a dynamic Empowerment Speaker. RC Blakes teacher on World Harvest International Television Network on a regular basis. He and his brother Samuel Blakes host their own national television broadcast on the WORD NETWORK weekly.