1.2 Million Adolescents' Deaths Mostly Preventable, Report Says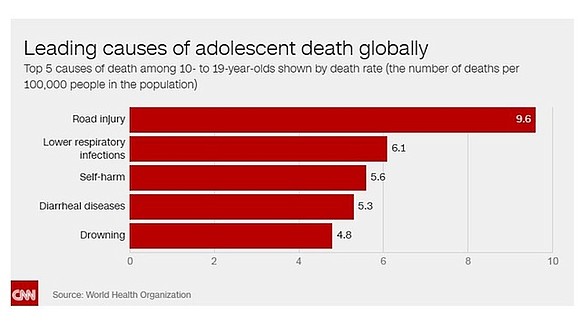 (CNN) -- More than 1.2 million adolescents die every year around the world -- an average of 3,000 deaths per day -- from causes that are largely preventable, according to a new report from the World Health Organization.
The leading cause of death among 10- to 19-year-olds globally in 2015 was road injury, which killed more than 115,000 people, followed by lower respiratory infections and self-harm.
When separated by age, sex and region, however, the leading causes of death differed significantly.
The report, published Tuesday, says two-thirds of deaths among adolescents occur in Southeast Asia and Africa.
It further highlights that improved health services, education and social care services can help prevent these deaths by giving adolescents the support they need.
"Adolescents have been entirely absent from national health plans for decades," said Dr. Flavia Bustreo, assistant director-general at the WHO, in a statement. "Relatively small investments focused on adolescents now will not only result in healthy and empowered adults who thrive and contribute positively to their communities, but it will also result in healthier future generations, yielding enormous returns."
Factors such as poor diet, lack of exercise and risky sexual behavior, which can impact health throughout a person's life, also begin during adolescence and need to be taken into account, according to the report.
The importance of adolescent health has been increasing," said Dr. David Ross, a medical officer at the WHO who co-authored the report. "But a lot more needs to be done."
Injuries and infections among teen boys
Though road injuries were the greatest cause of death globally, data showed them to be particularly harmful for boys 15 to 19 years old; most of them were non-drivers, such as pedestrians and cyclists. The second leading cause of death for boys was interpersonal violence, such as physical or sexual abuse, or emotional threats.
"In most deaths by road accident, the adolescent is a passive victim," Ross said. "In only a small proportion are they the driver." That proportion is higher in high-income countries, he added.
Dr. Sonia Saxena, a primary care expert at Imperial College London who was not involved with the report, highlighted that previous studies have found that the leading causes of death among adolescents in higher-income developed countries is risky behavior, such as drug and alcohol abuse, rather than the environment they live in.
"These factors for adolescents are around their whole environment," she said. "It should not be dangerous to walk down the road."
But Saxena highlighted that more detail is needed about why people are dying from injuries, highlighting that underlying factors could vary: being drunk and walking around at night, being hit by an exhausted driver or unsafe streets in general.
Pregnancy risks among girls
The causes of deaths among girls globally also had a clear division based on age, with most of those 10 to 14 dying from lower respiratory infections, such as pneumonia. The report suggests that this stems from their exposure to indoor air pollution, through the use of polluting fuels to cook in their homes.