Top Ten Finalists Named for H-E-B Primo Picks Video Showdown
Voting opens today and runs through April 9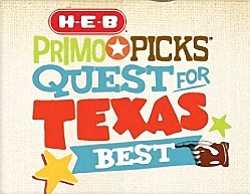 The top ten finalists for the H-E-B Primo Picks Video Showdown are now live at heb.com/video. Beginning today, March 28, through April 9, fans can visit heb.com/video and vote on their favorite entries.
Finalists for the contest hail from across Texas, including: San Antonio, Houston, Austin, New Braunfels, Leander, Belton and Edinburg. The winning commercial will be announced in May.
Voters will have a chance to win groceries for a year by visiting heb.com/video and voting for their favorite Primo Picks commercial. There's no purchase necessary to enter. See official rules at heb.com/video for details.
Voting period begins Tues., March 28 and runs through Sun., April 9.
Fans may vote once a day by visiting heb.com/video