"Tavi" Takes Footwear Experimentation To Soaring New Heights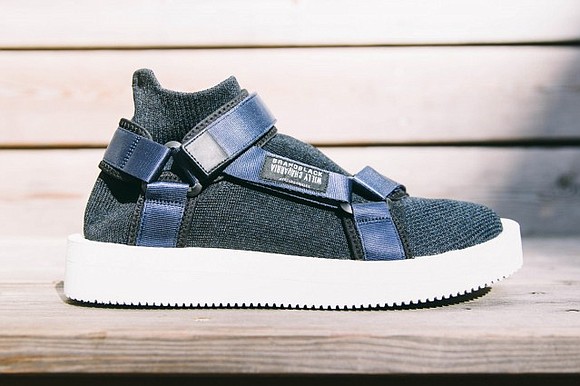 If you're struggling to decide between shoes and sandals this spring, then why not compromise somewhere in the middle? Los Angeles-based sportswear label BrandBlack has teamed up with fashion designer Willy Chavaria for a hybrid creation that pushes the technical boundaries of footwear engineering.
Although the avant-garde kick falls in line with the latest craze of knitted uppers, similarities with other models on the market end there. Designed to function primarily as a shoe, the tubular construction is held by interlocking straps. The upper is fused to an EVA midsole for utmost comfort and shock absorption, while an outsole crafted from premium Vibram rubber provides maximum traction. Basically, it's the type of futuristic crep Robocop would wear to the beach on his day off.
"I met Willy in Copenhagen a few years ago during CIFF [and] I loved his whole vibe. We were both walking each other through our collections and he thought it would be interesting to combine our ideas and aesthetics into a capsule collection," said the shoe's mad-scientist creator and BrandBlack Creative Director, Billy Dill. "He designed a silhouette mixed with BrandBlack's technical engineering and performance fabrications. He wore these white sandals with socks that had a very Los Angeles vibe, which obviously became the inspiration."
The BrandBlack x Willy Chavaria "Tavi" is lifted from a wider FW17 apparel collection called "Safe Words."
For more information go to http://www.highsnobiety.com