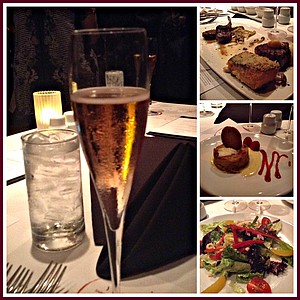 On March 10, 2017, Fleming's Prime Steakhouse and Wine Bar hosted its annual Wine Harvest Dinner. In the private dining area of their luxurious, but down to earth restaurant, a small group of us gathered and indulged our taste buds into a four course meal fit for a king.
As soon as we entered, we were handed a sparkling glass of Sophora Sparkling Rose' from New Zealand, which was paired with the Colossal Shrimp and Passion Fruit appetizer. The bubbling elixir was crisp, with a subtle fruit taste, which was not overly sweet at all. The shrimp were seared to perfection; the flavors were aromatic as well as tasty.
The second course was the colorful Spring Salad, which consisted of orange segment, red bell pepper, grape tomatoes with lemon balsamic vinaigrette which was paired with the Villa Maria Sauvignon Blanc. This plate was a harmonic melody of sweet and tart flavors that played well with the white wine.
Next, we experienced "The Southern Hemisphere Trio" which was a hardy plate of New Zealand Rack of Lamb, Ora King Salmon and Filet and Flavor Flight. The lamb was braised and served over crispy leeks and truffle parsley mashed potatoes and paired with the Yalumba, Shiraz Barossa Patchwork. The fish was prepared with a panko mushroom truffle crust, sautéed beech mushrooms in a garlic butter sauce and was partnered with Cloudy Bay, Sauvignon Blanc; this was my favorite of the two white wines. Number three of the proteins was the filet mignon that was accompanied by a symphony of sauces: rich mole and cabernet butter sauces, savory chimichurri, and black lava salts which was paired with Catena Malbec from Mendoza, Argentina. My favorite of this group was the black lava salts on top of the lamb, which added a layer of texture and a burst of flavor to the meat.
Lastly, we finished the evening with a Raspberry White Chocolate Bread Pudding which was simply a warm bread pudding, crème anglaise, and raspberry sauce topped with a crisp butter cookie. This is where I tapped out; my table mates finished their desserts and described it as decadent and amazing. The evening was a journey in fun, food, and drinks in an elegant but relaxed atmosphere. We were treated like royalty by the staff members who helped keep the food and wine flowing to our tables.
To view Fleming's full menus and locations, visit: www.flemingssteakhouse.com/locations. 
Please continue to follow Team Style Magazine on Facebook, Twitter, and Instagram.