Cory Solomon: Hometown Favorite Shines at RodeoHouston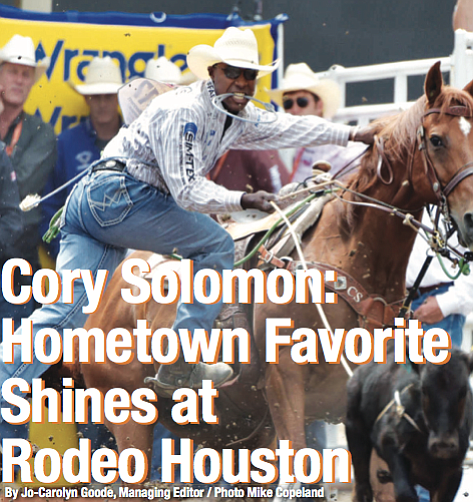 When most boys have dreams of being a professional football player or basketball player, Cory Solomon wanted to trot down a different path. For as long as he could remember his goal has been to become a professional cowboy. Now he is living his dream and we are privy to see him do it at the Houston Livestock Show and Rodeo.
"It is such a blessing," said Solomon about being in the positon he finds himself. The Houston native grew up 45 minutes outside of Houston with not a lot of money or material things. Despite what he didn't have, he focused on what he did have and that was heart. The love he has for roping has allowed him to be considered one of the best in the world while still being in his early twenties.
"Don't let what you lack stop you from doing it," Solomon advises anyone going after what they love and have a passion for doing.
Taking up his craft at the age of four after watching his dad and brothers advance in the field, Solomon knew what his destiny would be. Roping cattle was just second nature to him and as he puts it "the cowboy way." So much so that he says the only time he ever really got in trouble was for roping a kid at his daycare who dared him that he couldn't do it. He shut that kid up real quick.
Shutting up doubters and proving people wrong about him is something that he relishes in. Standing at 5 feet 7 inches tall, Solomon is considered small in stature for roping. The average roper is about 5 feet 9 inches. However, he doesn't think height is the secret to winning in his sport but strength and agility. "It is more about the technique and your horse," he said. A cowboy needs to be strong and have an extended reach to capture his pry. Solomon practices for hours on end to ensure his reach and strength re just right to stay competitive.
His methods have garnered him great success. The professional tie-down roper is a three time National Finals Rodeo qualifier and 2012 Calgary Stampede Champion. He has set numerous records dating back to his days in high school.
When he is not roping he is helping out with the family business. His father and brothers have a cattle business where they haul rodeo equipment in Prairie View, TX. He also has a love for watching and playing basketball in his spare time. He favors that sport almost as much as roping. If he had not been successful at roping, Solomon would have gone aggressively after a career as a professional basketball player. Now he channels his hoop dreams to focus on getting a professional basketball and football player as a sponsor.
It takes a lot of money to be competitive in roping. Solomon commented on the high cost of horses and equipment on reasons why the industry is so expensive. But raising money is not his only goal with NBA and NFL athletes as sponsors. The goal is centered on a respect of roping and admiration that basketball and football has.
Cory Solomon is one to watch, if you can keep up with all his tricks and speed as he ropes in cattle and fans. Nothing will keep him from going after his goal. Cheer on the hometown boy at this year's Houston Livestock Show and Rodeo.