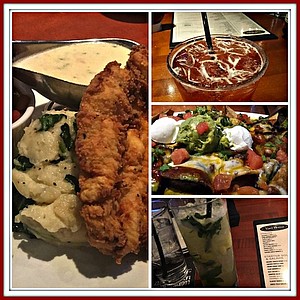 City Centre located at 800 Town and Center Boulevard in West Houston has become a hot spot for shopping, movie watching, and dining. The parking is plentiful, whether it's in an outside lot or the free parking garage, this place seems to have covered all the bases to please the multitude of visitors that arrive Monday through Sunday.
One of the main attractions is Yard House Restaurant, which is anchored at 800 Sorella Court centered in the town square. They are open seven days a week from 11 a.m. to 12 a.m. Monday through Sunday. "Taking its vast experience with brews, cocktails, and breweries and coupling it with a kitchen that prepares over 100 items made from scratch daily." Also, if you are a beer lover, Yard House keeps over 100 taps which are local and from around the world, according to their website yardhouse.com.

This was my first Yard House visit so it took me a while to decide, mainly because the menu has so many choices, which is great if you know exactly what you want to order. My guest suggested we start with the "Queso Dip" which is made with roasted poblano and chipotle peppers. The cheese dip was served with warm flour tortillas and tortilla chips. The cheese was hot, smooth, and bursting with the subtle flavors of the peppers.

We decided on our cocktails, while still enjoying the cheese and chips. I ordered the "Cherry Limeade", which contains: Cruzan Black Cherry Rum, Amoretto di Saronno, sweet and sour, with fresh lime. This libation made me say "wow!" after the first sip. It was light, a little sweet, with a slight fizz, which made it rather refreshing. My guest ordered a "Pineapple Express", made with New Amsterdam Pineapple Vodka, Monin Mojito, Pineapple Rum, fresh mint, and pineapples.

While sipping our cocktails, I ordered the steak nachos and my eating companion ordered the Southern Fried Chicken Breast." The waiter warned me that the portions were large, which was an understatement in my view. There was so much food on that plate; I couldn't have finished it in two sittings. The meat was well-seasoned, tender, and covered every single poncho on my plate.
The atmosphere is lively in this place; there are televisions hung high and facing every direction possible along with the classic rock music that is playing as well. The service was fast; our waiter was very attentive and called to our attention some of his menu favorites. We are planning on another visit.
Meanwhile, continue to follow Team Style Magazine on Facebook, Instagram, and Twitter.