Four Area Girls Earn Highest Award for Girl Scouting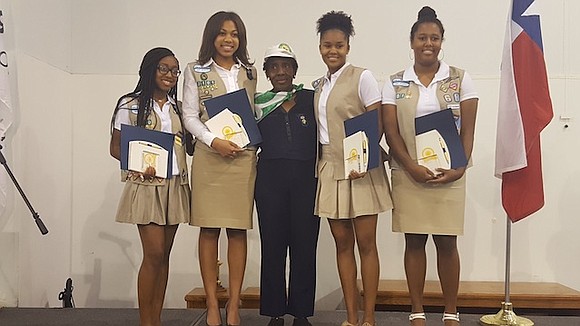 Anyone who knows Gold Award recipient Williams knows that she enjoys sketch drawing and sewing fashion designs. Having this eye for design and fashion, Williams' keen on how young girls are not always appropriately dress for various events and places. She merged these two ideas for her project called "Let's Redefine Fleek." Williams said, "I want young girls around everywhere to learn how to dress correctly for certain events and places that they will go in life." She executed this mission by holding several workshops with community partners to host fashion shows so girls could see and learn the dos and don'ts of what not to wear.

Earning the Gold Award is already special enough but adding to the grandeur of ceremony for these Girl Scouts was that of the first African American national president of the Girl Scouts of USA, Dr. Gloria Scott, as their keynote speaker. With a message that "girls can do anything," Dr. Scott gave a history of Girl Scouting and let the girls know that the meaningful projects that they do in scouting help them to live up to the Girl Scout Promise of protecting the environment because "that's what saves us."
Other highlights of the Court of Awards Ceremony for Troop #2101 were the recognition of four of the troop's graduating seniors – Zoe Marshall, Ashley Cosby, Michaela Homer and Nia Palmer.
The girls of Troop #2101 are lead by Ernie Carter Howard, Valerie Barnett, Jennifer Brown, Gabrielle Carter, Loren McCray, Jeannae Mccray Sims, Dr. Carla Ortique, and Andrea Simon. They meet regularly at Wheeler Avenue Baptist Church, where Rev. Dr. Marcus D. Cosby is the pastor.