All Eyez On Me Shows Tupac's Evolving Legacy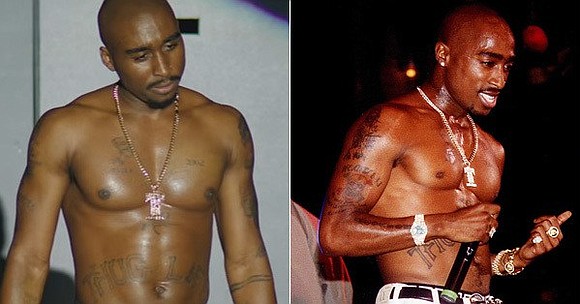 Biopics are notoriously hit or miss. For every Ray – there are a dozen others that never should have been made - a visual reminder that not every story can be accurately recreated on screen. When it comes to artists the bar is even higher, raised by the expectations of living family members and anxious fans. So when it comes to the memory of legends like Tupac Shakur, well, the stakes are even higher.
Arguably one of hip-hop's most enigmatic and outgoing personalities, for many the "California Love" artist was more than his music, a hip-hop prophet capable of switching effortlessly between Black Panther rhetoric and carefree classics like "I Get Around." It's a contradiction that All Eyez On Me tiptoes around, as newcomer Demetrius Shipp Jr. steps into the shoes of Shakur.
Bolstered by the success of films like Notorious and 2015 hit Straight Outta Compton, a biopic on Shakur's life has long been overdue. Gunned down at just 25-years-old, it took over two decades to bring his story to life, thanks in part to a revolving door of directors that included the dismissal of veteran John Singleton. Now the film is finally here, raking in over $27 million during its Father's Day debut last weekend.
Clocking in at over two hours long, Benny Boom's vision opens with Shakur behind bars, sentenced to over four years for a sexual assault he insisted he didn't commit. He speaks with writer Hill Harper as the film unfolds, the audience watching as he transforms from a talented youth at the Baltimore School of Performing Arts - where he met Jada Pinkett-Smith, portrayed by Kat Graham - to a rising star navigating his way through the streets of California.
While the film shows his time in Digital Underground (with members Shock G and Money B playing themselves) and the ill-advised allegiance with Def Row Records, critics were quick to point out that many moments were missing; including his role in Juice and an infamous scuffle with the Hughes Brothers that ultimately cost him the role of Sharif in Menace II Society.
Pinkett also had choice words for the film, taking to Twitter to offer her own version of a few events, including a scene that suggested they'd argued shortly before his death. Undoubtedly more films will follow, but All Eyez On Me will stand as a noteworthy entry into Shakur's evolving legacy, flaws and all. It's strength lying in a passionate performance from Shipp and a fiery portrayal of Afeni Shakur, courtesy of Danai Gurira.
Fans will not learn anything new from this film, yet Shipp's recreations of visuals like "Brenda's Got A Baby" and "Dear Mama" are enough to capture the imagination. In the end, All Eyez On Me will stand as a noteworthy entry into Shakur's evolving legacy. Hopefully, it's the first of many films to follow.
Codeblack Films own, All Eyez On Me is in theaters now.