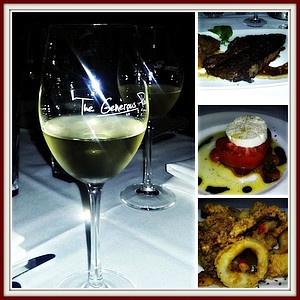 Capital Grille is featuring its Generous Pour Menu highlighting a collection of seven benchmark offerings from the Critics' Darlings: 90+ Point Finds – wines that have been rated 90 points or higher by respected wine critics. Seven of the best wines are offered on this menu that were individually chosen by Capital Grille's Advanced Sommelier Brian Phillips.

My guest and I enjoyed an advanced tasting of the menu with dinner. Our taste buds were delighted with the flavor of the wines and food selections, along with the excellent service that Capital Grille has become the restaurant's signature.
The first wines to tingle our palates were the Willaenzie, Pinot Gris, and Williamette Valley OR 2016 named for "Oregon's Williamette and Mckenzie rivers to honor the mineral-rich sediment in which their wines are grown. This was by far my favorite of all the white wines tasted. It had a crisp citrus taste and distinct aroma, which was rather earthy with a slight scent of flowers. Besides pairing well with my lump crab cakes and corn salad, the wine had the best finish in my view.
Next up was the Sauvignon Blanc wine called Matanzas Creek that was expertly paired with fried calamari. This wine held its own giving off a bright almost fruity taste at the beginning and finishing just as its description on the menu, lively and acidic.
We moved on to a punch packing Chardonnay that went down smooth. It also matched well with the fresh mozzarella, tomato, basil and the 15-year balsamic we had as an appetizer.
Now on to the red selections beginning with Edmeades, a zinfandel from Mendocino, California. This wine had a vivacious flavor that seemed to burst on impact when coming in contact with my tongue and cheeks. It had a smooth finish without any after taste. This zinfandel was enjoyed with the porcini rubbed bone-in rib eye with 15-year balsamic, Sam's Mashed Potatoes and Soy Glazed Brussels Sprouts with Bacon.
Finally, we sampled the Pinot Noir, Cabernet Sauvignons, and decided to stick with the Zinfandel for the last portion of our tasting. My guest and I were both impressed with the selection of wines and the melody of dishes that were perfectly matched with each wine. We were pleasantly full and packed our desserts to go.

Make your reservations for the Generous Pour by going to www.capitalgrille.com.