Tired of Bullying, Youth Suicide and Social Media Violence, an Assistant Superintendent Takes Action to Make a Difference for Students and Families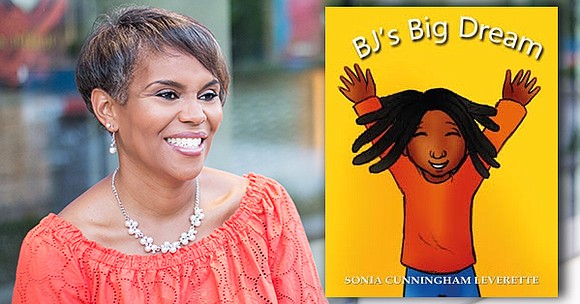 Spartanburg, SC — On Wednesday, July 19, 2017, Dr. Sonia Cunningham Leverette hosts the virtual launch of her 5-star children's story book, BJ's Big Dream, written to help build confidence, discipline and problem solving skills in youth. From 10 AM to 9 PM EST, the online event includes discussions with best-selling authors, Facebook chats and giveaways of autographed books and downloads. The complete schedule of events and giveaways are available at www.bjsbigdream.com.
Dr. Sonia Cunningham Leverette says, "I chose a career in education because I am passionate about children and their success. When children feel helpless and hopeless, they often act out in unproductive ways. I am saddened by the number of children who commit suicide especially as it relates to bullying." Although this children's story book is about an African American boy who admires Bob Marley's music and hair, BJ's Big Dream inspires children to think beyond today's challenges and dream about tomorrow's results. "My desire is to boost children's self-esteem by providing options that encourage them to dream, plan, do and celebrate. When they work toward a goal and claim victory over difficult situations, they have hope for the future."
BJ's Big Dream has been compared to Cedella Marley's board book, Every Little Thing. The book introduces a new generation to Bob Marley's beloved song while illustrating a child's resiliency in not letting anything get him down. Another comparable title is The Carrot Seed by Ruth Krauss. This children's book focuses on the determination of a little boy who plants, nurtures and protects a carrot seed despite the discouragement of others.
Join the Dream Big Movement
In addition to 15% savings, every reader who purchases BJ's Big Dream (www.bjsbigdream.com) on July 19, 2017 will receive the following bonuses:
BJ's Big Dream Coloring Book

Nappy Hair Audio Book by Carolivia Herron

And these bonuses designed with adults in mind

A Thanksgiving Christmas eBook by Dr. Sonia Cunningham Leverette

Every Man's Private Marriage Check List based on the Amazon bestselling novel, The Forbidden

Secrets of the Goody Box by Valerie J. Lewis Coleman (www.thegoodyboxbook.com)
What Readers Say About BJ's Big Dream:
"Along with the colorful, beautiful illustrations, BJ's Big Dream is about passion, accomplishment and courage. Children need a role model or hero to whom they can aspire, just like BJ has, so let's encourage our children to create their own being; strengthening not only their confidence, but their self-worth." — Vernita Naylor for Readers' Favorite
"We absolutely love your books and read them weekly. Thanks so much for BJ's Big Dream. My little brown boy sees himself in BJ!" — Shantel Carter Cox
"I read BJ's Big Dream to a group of students at the school where I am principal. They adored it!" — Amazon Reviewer
"BJ's Big Dream has so many life lessons including loving yourself, goal-setting and discipline." — Amazon Reviewer
"BJ's Big Dream is just what my African American sons needed. They love the story and are captivated by the colorful graphics. This children's book is a must-have!" — Amazon Reviewer