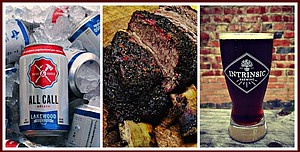 If you're a lover of all things craft beer, you were raised on good Texas Barbecue, and you enjoy lively crowds, daily, then you are probably running one of the most successful breweries in North Texas. Intrinsic Brewing, located at 509 West State Street in Garland, Texas, is wowing the crowds with their distinct flavors of beer and their smokehouse barbecue. Also know for their uncommon flavors, Intrinsic is making a name for themselves with their signature brews such as: Hibiscus Wit, Yoloquat, Pineapple Cucumber Saison and their series called Froot Tart.
Additionally, Intrinsic is making all kinds of waves with their food; they smoke their own meats, according to their website: intrinsicbrewing.com, "all meats smoked low & slow, in small batches just like our craft beer, and once we are out, we are out until tomorrow." We spoke briefly to co-owner Cary Hodson, who grew up in Texas, he is passionate about his chosen field of work and it shows in the quality of their menu. Once a month Intrinsic does flight food pairings, which has been quite successful and a big hit with the crowds according to Hodson. What are customers saying about Intrinsic? "Nice atmosphere, awesome BBQ & drinks. Even if you don't drink beer, like myself, they have a cider on tap, wines from a bottle & Sangria on tap. The Sangria is the best I have ever had! " Another customer wrote, "from top notch beers to the best BBQ I have ever had in a place that had the coolest atmosphere inside and outside."
Also going strong in Garland is Lakewood Brewery, which was founded in 2011 by Belgian born, Texas raised, SMU Graduate Wim Bens. According to his bio, "we strive to create the highest quality beers by developing new and exciting styles while staying true to the art and precision of craft brewing. We handcraft small batch beers that are full of unique, exciting flavors and reflect the timelessness, creativity, and energetic fun that makes Lakewood less of a place and more of a feeling."
Here are a few comments from their customers: "Friendly staff, excellent tap room, quality product. A great place to hang while away on an afternoon or evening, one is encouraged to sit a spell. The atmosphere in the taproom is perfect for sharing a few beers. It's clean, quiet, open and inviting. The selection of brewery-only choices was amazing." Finally, visit their website: www.lakewoodbrewing.com to learn more about their craft beers.
Thanks for reading, and please continue to follow Team Style Magazine on: Facebook, Instagram, and Twitter.