TSU Art Students Revive School's Mural Tradition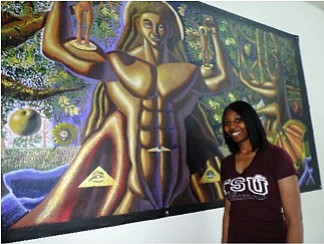 By ASWAD WALKER
Texas Southern University's long and storied history of art lives on in a new set of student-produced murals recently hung in the school's Wellness and Recreation Center.
World renowned artist and founder of Texas Southern University's Art Department, the late Dr. John Biggers, who came to TSU in 1949 instituted a departmental requirement early in the program's founding that all graduating seniors paint a mural. The cost-saving move of using the walls of Hannah Hall as the students' canvases launched what has become a tourist attraction for global art students who come from everywhere to pay homage to Biggers and the work of his students.
However, a moratorium had been issued on the painting of murals on campus, thus ending a long and proud tradition, which was only recently rescinded; and by accident at that.
In search of artwork to give added life to TSU's Recreation and Wellness Center—known by students as the Rec Center—its director, Iisha Voltz, originally looked at other companies to provide artistic works to adorn the building's walls.
"Then one day I said, 'Wow; we have an art department on campus. Maybe we can partner with them to produce some murals,'" recalled Voltz. "Seeing that the Rec Center is a student-funded facility, what better way to showcase TSU art students and their skills than to have them produce something that will remain a fixture on this campus for decades. These works will be something they and their families and children can come back to and see the mark they left on campus."
To get the ball rolling, Voltz ventured to the University's Art Department and began asking whoever she saw for leads on muralists. She was eventually directed to Jesse Sifuentes, a TSU art professor and instructor of the school's mural painting class.
"With the moratorium on murals, my students were just painting murals on canvas," said Sifuentes. "Thank goodness for Ms. Voltz. She went in art classes looking for students to paint murals. When I told her I have a mural painting class next semester who can help out, she said great. She gave us the opportunity, and we jumped on it. Ms. Voltz needs to be commended. She's either a troublemaker or a hero; but definitely a hero in my book," shared Sifuentes.
The students who produced the works are Derrick Brown, Nathaniel Donnett, Frederica Grant, Christopher Hicks, Robert Riojas, Isaiah Thomas and Faith Schwartz.
Sifuentes explained that unlike paintings done on easels where an artist paints, and then names his or her work, "With murals it's the other way around." Voltz provided the students with the theme, a narrative of "Health and Wellness." And once equipped with their charge, Sifuentes' students did a walk-thru of the Rec Center and each chose their wall for their future painting.
"After the walk-thru we met once again where the students had their visions of what they wanted to do," said Voltz of her team's review of the artists' sketches.
According to Voltz, there were just a few minimal changes suggested to the students' visions as everyone was consistent in staying on theme.