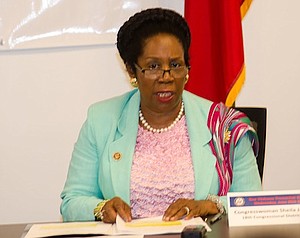 Washington, DC – Congresswoman Sheila Jackson Lee, a member of the House Budget Committee, a senior member of the House Committees on Judiciary and Homeland Security and Ranking Member of the Judiciary Subcommittee on Crime, Terrorism, Homeland Security and Investigations, held a march and rally to highlight the harsh impact the Senate's cruel healthcare bill will have on Houstonians and other Texans.
The gathering culminated at Houston City Hall, where the Congresswoman was joined by scores of concerned citizens and health professionals. Together, they outlined the horrific effects Senate Trumpcare will have on Texas residents. They include:
· More than two and a half million Texans losing their health coverage.
· The loss of $62 billion in federal funding for Medicaid, CHIP, and financial assistance for marketplace coverage.
· Close to one million Texans losing financial assistance to help pay for their health coverage thus losing affordable coverage options.
· Over half a million kids having their health coverage drastically rolled back.
The devastation in the 18th Congressional District alone would be widespread and include:
· 89,300 adults ages 18-64 will losing their health insurance coverage.
· 1,800 elderly who rely on Medicaid losing coverage.
· Nearly 13 thousand people with employer-provided health insurance losing coverage.
· Close to five thousand people who purchase market place health insurance losing coverage.
Nationwide, Trumpcare cuts $774 Billion from Medicare and knocks 22 million Americans off of their health insurance plans. The meanness of the Senate measure is bipartisan. Republican districts in Texas will also be hard-hit by this unhealthy bill. In Ted Poe's district, approximately 86 thousand people will lose their health coverage. Roughly the same number of individuals in Kevin Brady's district will also lose coverage. The numbers are no better in Pete Olsen's district, where roughly 87 thousand people will lose their health insurance.
Senate Trumpcare will reverse the gains that Texas made in insuring its citizens under the Affordable Care Act. Under the ACA, nearly two million previously uninsured Texans acquired coverage. With Trumpcare, the State's now-historically low rate of uninsured people will increase 58 percent by 2019. We can't afford to go back to 2010 when Texas had the highest rate of uninsured people of any state in the nation with almost one in four of its citizens having to go it alone.
Further, Senate Trumpcare would defund Planned Parenthood, putting millions of people who rely on Planned Parenthood for health services at risk. In Texas alone, 120,000 people rely on Planned Parenthood annually. That figure includes the more than 31,000 people who turn to Planned Parenthood Gulf Coast in Houston for lifesaving cancer screenings, birth control, and testing and treatment for sexually transmitted infections.
"Senate Trumpcare is a heartless and immoral attempt to deny basic health services to hard working families," said Congresswoman Sheila Jackson Lee. "Preventing this obscene legislation from becoming law a critical test of our time. Millions of lives depend on our success, and one of them could be yours or someone you love."
"Join the fight. Call 202-224-3121 and ask to speak to your Senator."