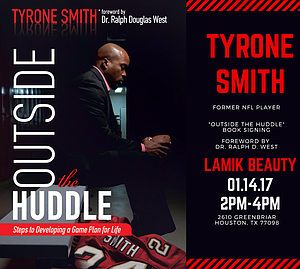 Former NFL player of the San Francisco 49ers, Tyrone Smith now spends his time showing others how to score in life. His new book, "Outside the Huddle – Steps to Developing a Game Plan for Life," recalls his journey as an at-risk, inner city youth struggling in school to graduating from Baylor University with a B.A. in Sociology, and ultimately, playing in the NFL. The lessons he learned along the way have given birth to an explosive message that will infuse readers with creative solutions and fresh perspectives.
Realizing the effectiveness of implementing a "game plan" in his own life, Tyrone Smith shares his life experiences in addition to the key principles that shape an effective game plan. In his book Tyrone creates a narrative that inspires as well as informs. Words that he hopes will inspire people from all walks of life.
Meet Tyrone Smith and get a copy of the book on Saturday, January 14, 2016 from 2 pm to 4 pm at the LAMIK Beauty 2610 Greenbriar St, Houston, Texas 77098.
The key feature of the book is the in depth perspective of Tyrone Smith and the first hand look into the life of a young African American man who came from humble beginnings, and found success by following the path outlined by the principles in the book. Tyrone realizes that his story will empower, motivate and inspire individuals to think twice about giving up in life.
Learn more about Tyrone Smith at www.tyronesmith24.com.