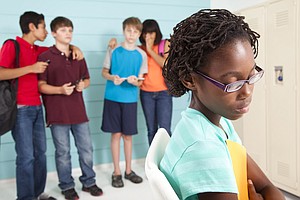 A group of 10 to 16-year-olds agreed to sit down for an honest discussion about bullying. The kids were eager to share their stories and when asked who had experienced bullying, all nine hands shot up in the air. But the next question was met with some hesitation. The question was simple:
What is bullying?
"Does it count if you're a bystander?" one girl asked. Another asked if it counts if you're mean to someone who is mean to you. It was as if they were trying to measure each situation. If the "bully behavior scale" tips too far in one direction, then surely what you're experiencing is bullying, right? This is why bullying is hard to understand. You can't exactly measure bullying, but we all think we know it when we see it.
Bullying is defined as the repetition of unwanted, aggressive behavior that involves a real or perceived imbalance of power, according to stopbullying.gov. Bullying can take many forms, both in person and online. It can be verbal like name-calling or threatening to cause harm; physical like hitting someone or breaking someone's property; or social like excluding someone from a group or spreading rumors online.
Who is a target for bullying?
One out of every five students say the were bullied in 2016. The experience is isolating, regardless of what form it takes.
"It just really hurts because I only have like literally two friends that really get me and understand me", 10-year-old Lily explains.
16-year-old Aubrianna says she's faced situations at school where race comes into play. Unfortunately, her story is not uncommon. More than one-third of adolescents say they have experience biased-based bullying. Aubrianna says she attends a predominantly white school, where African Americans are the minority.
"If I need a fake name they'll give me a black name." She says she's heard classmates tell racist jokes on more than one occasion. She initially tried to laugh it off, but it didn't stop. "I was like 'ok, there's a line that you do not cross and you just crossed it.' I was being bullied and I stood up for myself."
Each student had a story to share. Mila says people make fun of her because she stutters. Sarah Jewell says other kids tease her about her weight.
For more information go to http://www.khou.com