See the World On a Dime: Tips for Traveling On a Budget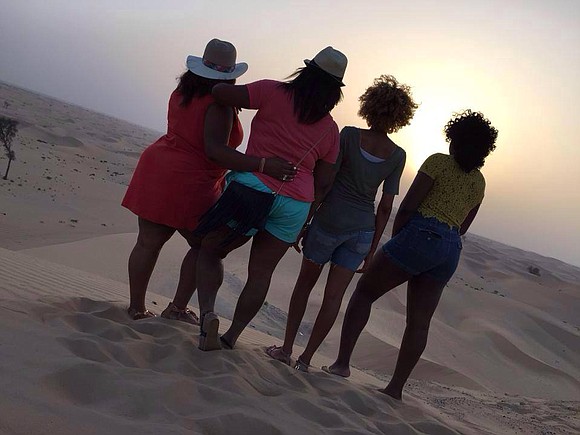 I absolutely love to travel! It would be safe to say I suffer from wanderlust. It's something about packing late, rushing to the airport, letting my seat back as soon as the plane takes off and sleeping thru most of the flight. International flights are even better! I love the sound of my passport getting stamped, the conversation I have with multiple cultures while waiting in customs, and how the meals change on the plane when you are no longer in the states. It puts a smile on my face like no other, and I haven't even talked about the destinations! Flying over the Swiss Alps, taking a boat to my hotel in Venice, climbing The Great Wall of China, learning about these cultures from first hand adds to my admiration of travel. My friends say: "HOW DO YOU DO IT?" "I priced your same trip and it totaled 5k!" Simply put, I travel on a budget and I'm going to teach you how!
Three's Company!
The first step to traveling on a budget is to get you some dedicated friends who don't mind going with you. I once heard a friend say how he was in a Facebook travel group. In January, a group of 25 agreed to go on a September cruise, by March only 10 booked, by August only 2 were going. Don't travel with those friends. Get you someone who already has a passport and has proven that they are about that travel life. I travel with my best friend and my sister. Now, why is this important? Not only do you want to share some amazing memories with people you have a close bond with, it's cheaper. A lot of times when you travel, you have to have the money upfront. If you are not paying for your hotel upfront, you are definitely paying for your plane ticket. When you travel with 3 or more people, you can find amazing payment plans. But from where?
Do Due Diligence!
Do not sleep on sites like Kayak and Travelzoo. I am signed up for Travelzoo's VIP 20 and have taken two of my last few international trips with them. They are always running a huge sale on what I like to call Combination Travel: Hotel, Transfers, Plane Ticket, and some Meals all included. Again I am traveling with two friends so once they send me an email to Thailand for 699, I jump on it, 200 down and I get to pay it off 1 month before my trip; I'm as good as gold! Vacation packages are amazing, you just have to make sure you're putting yourself in opportunities way! Also, subscribe to sights that search for fluke tickets and post the link. My flight to Abu Dhabi cost me an even 235 Roundtrip because of such sites.
Keep your Eyes Open!
Search. The worst thing I have ever seen is a lazy traveler. If you know you don't have the funds to outright buy your ticket to where you want to go and hotel etc., why don't you hunt for deals? It's not that hard. If international travel is too rich for your blood at the time, there are a million domestic deals you can find with a little bit of searching. When I fly domestically, I like to do what I call a mix and match. Find an amazing flight deal (Cheap air, Southwest, Flysmart, Google Flights) and then pair it with a nice Air B&B or hotel deal (Hotels.com, Travelocity, etc.). Yes, it takes a little bit of time but it's better than paying astronomical prices for being lazy or worst, not going at all.
Bottom line is, there is no secret club that offers you cheap flights & vacations, and it's out there. I have given you my blueprint to travel now go out there and tweak it on your own. I'm sure there are a million of ways to travel on a budget. Now go see some world!