Black Female Barber Makes the Right Cut in Male Dominated Industry
Owner of 61 Cutz, Catherine "Cat" Wilson, Celebrates Success in Vicksburg, Miss.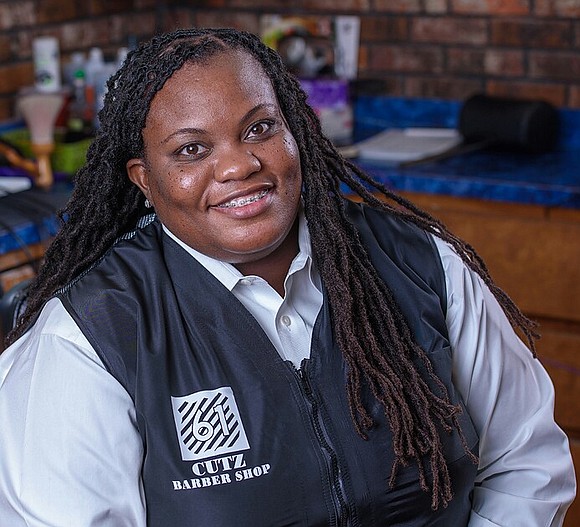 VICKSBURG, Miss. – February 3, 2017 – Hoping to pave the way for women in the male grooming industry, Catherine "Cat" Wilson is pleased with the success of her new barbershop in Vicksburg, Miss. Called 61 Cutz. Cat said she hopes to leave a lasting footprint in the profession that is based on more than just giving people the latest styles.
"It has always been my dream to own my own shop where people recognize me for my talent rather than my gender," said Wilson. "Good grooming is as important to men as it is to women. My customers place a tremendous amount of trust in me, and I don't take it lightly. Some of the guys are a little apprehensive at first, but I strive to do my best every time, and they end up coming back."
Wilson said her customer-focused approach and word-of-mouth buzz has led to led to much of 61 Cutz's success. She said it all began at age 11 when she was a young girl cutting her brother's hair.
"I got better over time, but I wasn't sure if I was good enough to do this professionally," she said. "When I got older, I ventured off into jobs that I felt would provide a stable source of income. But something was missing. I did not feel like I was making the positive impact on my community. That's when I stepped out on faith and went to barbering school."
Eight years later, Wilson honed her skills and launched her own traditional-style barbershop. To stay on top of changes, trends, and growth in the industry, she researches and tests new products to determine their usefulness and client response. Wilson also maintains professional relationships with barbers in the surrounding area and leading barber instructors from around the country to discuss current trends and new techniques.
Wilson is also engaged in the community. She collects items for Toys for Tots around the holidays and organizes a Back-to-School supply giveaway that includes free haircuts to school aged boys.
"My clients motivate me," Wilson added, "I never want to let them down. I feel such a strong responsibility to be there for my clients when they want and especially when they need me."
Wilson said the next step in her evolution would be to have her own line of men's grooming and skin care products, and to earn the privilege to cut President Barack Obama's hair.
61 Cutz is located at 899 61 N Bypass in Vicksburg, Mississippi. For more information, call (601) 738-5333. You can find us on Instagram at: https://www.instagram.com/61Cutz/