San Antonio's 300th Anniversary to Kick Off with New Year's Eve Celebration
A spectacular downtown festival will honor San Antonio and Bexar County's distinguished past and launch the community into the next 300 years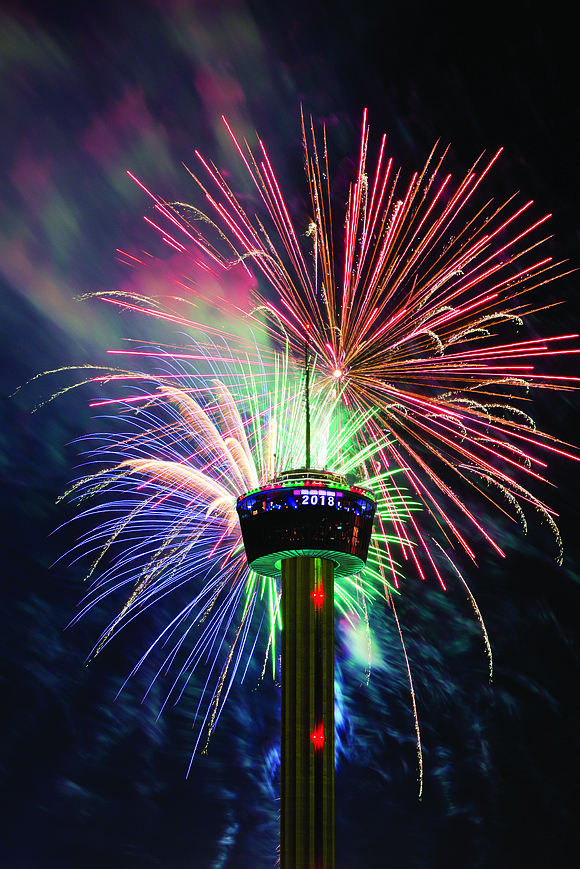 SAN ANTONIO, TX (December 7, 2017) – San Antonio, a city long known for its rich history and confluence of cultures, officially rings in 2018 in style when it kicks off its yearlong 300th anniversary. Planned for the occasion is an extraordinary New Year's Eve celebration and free outdoor concert, called Celebrate 300. The special evening will be punctuated by a nearly 30-minute fireworks display not seen before. The free event will be staged in the heart of downtown at Hemisfair, a newly revitalized park that was home to the 1968 World's Fair.
Carlos Contreras, interim Executive Director of the Tricentennial, announced the musical lineup for the family-friendly New Year's Eve festival to include an array of musical genres, intended to attract a wide audience of all ages. REO Speedwagon and Pat Benatar & Neil Giraldo will headline. The lineup of regional and local talent includes The Last Bandoleros, Little Joe y la Familia, Bidi Bidi Banda and Sam Riggs. While the concert and festival admission is free, an enhanced package is available for purchase on the Tricentennial website that includes an up-close stage experience, special event gourmet food and more.
Celebrate 300 will be unlike any other New Year's Eve event in San Antonio history. The event footprint occupies a significant portion of Hemisfair, including its Yanaguana Garden, transformed for the evening into the Tricentennial Garden. Starting at 4 p.m. on December 31, families will enjoy free admission to the festival grounds where they will enjoy some of the following activities, among others: interactive art, games, music and live theatrical performances. An 80-foot Ferris wheel will sit at the center of the event footprint and is sure to be a favorite attraction for attendees of all ages. Actors from neighboring Magik Theatre will host on-stage performances throughout the festival. Delectable fare will be offered in an extensive food court that brings unique flavors to the event. Celebrate 300 will be capped by a spectacular midnight fireworks show unlike one ever before seen in San Antonio that includes special lighting and pyrotechnics from multiple launch points that will appear over both the Henry B. Gonzalez Convention Center and the Tower of the Americas. The 20-minute fireworks show will be set to a musical score created specifically for the Tricentennial.
"We are looking forward to welcoming and celebrating along with visitors to San Antonio on this historic and significant moment in our city's history," said Casandra Matej, President and CEO of Visit San Antonio. "2018 will be a significant year as we proudly kick off our Tricentennial and welcome in the next 300 years of San Antonio's evolution as one of the most authentic cities."

Originally a remote settlement next to a serpentine river, San Antonio has been a pinnacle of Texas, U.S. and world history. It is now the seventh-largest city in the United States, attracting more than 34.4 million visitors a year. That quiet river has evolved into the River Walk, one of the country's top tourism destinations, while the area's first Spanish colonial mission, has become the legendary Alamo.
The city is planning on celebrating all year long with events, activities and initiatives that will carry San Antonio into the next 300 years. The Tricentennial Commemorative Week will be held the first week of May 2018. The joy and pride of the city will be harnessed into a week filled with distinctive events to showcase the collective essence of San Antonio.
Recently the city has earned many accolades as one of the best places to travel next year. Select listings include National Geographic Traveler's "Best of the World" destination for 2018, Frommer's "Best Place to Go in 2018," Fodor's Travel "2018 Go List," and Travel + Leisure's "50 Best Places to Travel in 2018."
More information on Celebrate 300 is available at SanAntonio300.org. Up-to-the-minute updates will be shared on the website, including Park and Ride information and event rideshare details and designated pick-up locations.
To book hotel and vacation packages or for additional information on events in San Antonio throughout 2018, go to VisitSanAntonio.com/300.