"Addicted to White: The Oppressed In League With The Oppressor" — The Controversial Self-Help Book They Don't Want You To Read!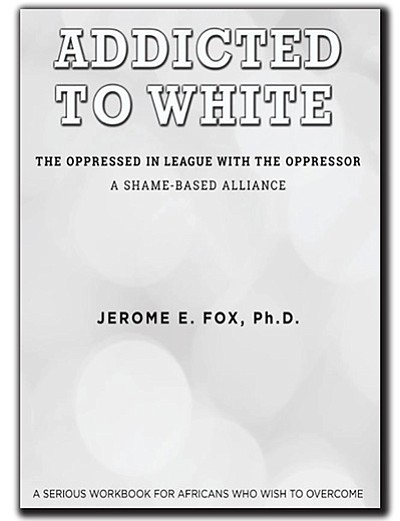 Source: BlackNews.com
Philadelphia, PA — Is racial oppression addictive? If so, how does one recover? Announcing a new and proven self-help strategy, Addicted to White: The Oppressed in League with the Oppressor by author Jerome E. Fox, Ph.D., that reveals the first step is for the oppressed to break their addiction to the values of the oppressor.
Dr. Fox, a clinical licensed psychologist, analyzes global race relations, and concludes that the major challenge confronting black people everywhere is their ideological entanglement with a white social order predicated on narcissism, greed, and violence. He then darts straight to the heart of the matter, offering a solution for uncoupling the shame-based alliance between the oppressed and the oppressor. Solution! Solution! Solution! That's what this book is about.
Not since the transcontinental black freedom movements of the 1960's has there been a more impactful action plan for uplifting the abused, exploited, and forgotten "targets" of white supremacy!
While Addicted to White: The Oppressed in League with the Oppressor will appeal to thoughtful black people, thoughtful white readers will also find the book enlightening for its unique stance.
Is it too late to mount an effective campaign against the spread of racial oppression and the values that animate it? Dr. Fox doesn't think so—and here he lays out his compelling roadmap to a successful, happier future for everyone who is willing to stand up and fight back. For more, see www.metro.us/lifestyle/race-relations-dr-jerome-fox-book-addicted-to-white.