The Most Diverse Grammys Ever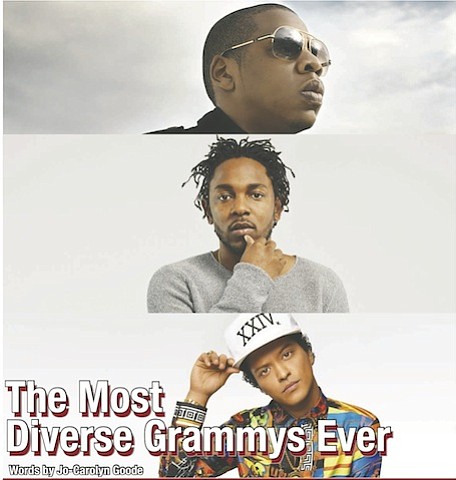 Shut out. For years that is how urban, R&B, and hip-hop artists felt at the Grammys. Their talents were going unrecognized. And the few times that they were given a Grammy nod, they would lose to white artists. The most famed of these was Adele beating out Beyonce at the 2017 awards. Even Adele acknowledged how crazy that was in her acceptance speech. The lack of diversity at the Grammys spurred the trending hashtag #GrammysSoWhite. But that was 2017.
In 2018, the Grammys have gone from a sprinkle of Black and minority artists to done right painting the town with them. Melanin is definitely popping at this year's Grammys. There is so much color on the nomination list it is hard to find white people. In fact, there are no white male artists nominated. Maybe there needs to be a new hashtag #GrammysSoBlack.
Jay-Z with his 4:44 leads the pack in Grammys nods with eight nominations. Following behind him are Kendrick Lamar with seven nominations and Bruno Mars with six. Then there are the surprise nominations of Childish Gambino and Cardi B. If Jay-Z, who has already made history tying with two other artists for most Grammy nominations of any entertainer in the history of the Grammys, pulls off a win for Album of the Year he will be the second person of color to do so. Kanye West won the honor ten years ago.
Black artists are not the only ones defying the odds but Spanish artists as well. For the first time a largely Spanish-language song, "Despacito," has been nominated for record and song of the year. Hearing the news shock artist Luis Fonsi who tweeted, "'I'm freaking out right now. #GrammyNominations God is so good!!!!"
White artists, especially males, are feeling the cold shoulder of the Grammys. But hey, minority artists have felt that chill for years. While some fans are cheering on the Grammy nominations some are questioning why artists like Ed Sheeran, Taylor Swift, Lady Gaga and others didn't get any nominations. Why this sudden change to diversify the Grammys? Recording Academy president/CEO Neil Portnow gave some insight with a few reasons in a recent interview with Billboard.
"There are three elements: Number one is we have taken a concerted effort to making sure that the voting membership of the Academy is representative of the creative community." Portnow continued, "[Number two,] the online voting in many ways levels the playing field to the extent that it's convenient and accessible to everybody. The third piece is we very successfully hit the nail on the head where music is today in 2017 and 2018 with respect to genre and culture and society. Hip-hop and urban music are proliferating across the world."
Portnow also how pleased he was with this year's list of nominations. "I was very pleased." Referencing them as "a wonderful reflection on our organization and how relevant and in touch and savvy our voting members are."



While I salute the Grammys for their inclusiveness, I also encourage them to just simply do what they are supposed to do recognize great music for what it is and the talented artists behind them. Don't just give nominations or awards to someone because of the color of their skin but honor them because they truly deserving and are the best at what the do. I don't want to see an influx of color this year for the Grammys to retreat back to their old ways next year.
The 60th GRAMMY Awards air on Jan. 28, 2018, on CBS from Madison Square Garden in New York from 6:30–10 p.m. CST.