Balancing Books and Politics: PVAMU Student Goes to College As Youngest City Councilman in the State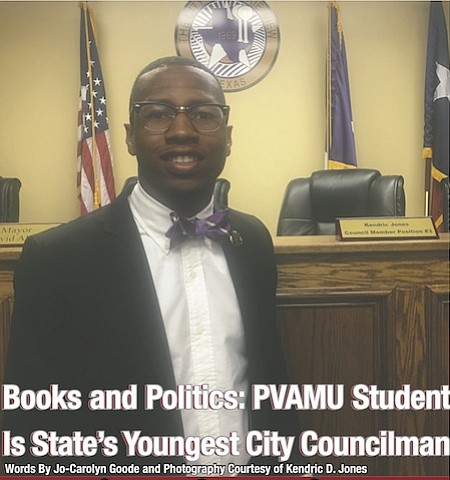 This mindset that Jones has is all part of his overall goal to uplift the community, the black man, his race and mentor; an idea that he might not have had if he had not matriculate at the historically black university. Initially, Jones did not want to attend Prairie View A&M University. Instead of a panther, he wanted to be an aggie, a Texas A&M aggie that is. However, there was a big problem in that plan, not enough financial aid. So the decision was made for him to attend PV. A decision he calls as the best one made for him. Now he is an advocate for African Americans to attend HBCUs. "There is no experience like it," said Jones. "If you make it here, you can make it out in the real world."
And it is almost time for him to test his footing in that real world, as graduation is nine months away. Before he crosses the stage, turns his tassel, and the hill is in his rearview, he has some advice to the incoming freshmen class of 2021. Jones encourages freshmen to find something that they want to do. Easily one of the biggest challenges for freshmen that are on their own for the first time is doing things they want to do instead of things that their parents or others want them to do. Something Jones himself had a hard time adjusting to as a new college student. Going to college is about finding out who you really are as a person and the best way to do that is to get involved in different organizations and activities to see what you like and get exposed to new things. "In the long haul, those are things that will bring you joy and you'll wind up working ten times harder doing something you love to get the money that you want. Rather than doing something for the money that you don't love. Eventually, you'll give up," said Jones.
He is not short on advise to those returning the hill either. "Keep pushing and always reach back," encourages Jones to his returning panthers. Living by the philosophy of a quote that states, "A wise man learns from the mistakes of others. A smart man learns from his own mistakes," Jones believes if upper classmen would let freshmen know of their personal trials and tribulations while obtaining their education then the freshmen would have a faster start on the path to success. It is all part of reaching back and giving back.
The start of the new school year is not the only thing that has students like Jones excited about returning to campus. Anticipation is up due to the new leadership of Dr. Ruth J. Simmons as the interim university president. She officially began her term on July 1st after Dr. George C. Wright stepped down as the university president to return to the faculty. Although she is an HBCU graduate of Spelman College, criticism has surrounded her appointment because of her Ivy League school administration experience. She was the first Black president of an Ivy League university. Some think it is not a good mix for an HBCU like PVAMU. However, students, faculty and alum welcome Dr. Simmons. Jones laughs at the negative comments about Dr. Simmons as he has had several meetings with her and knows her nature of being very genuine and student driven. Calling her "pretty legit," Jones believes Prairie View is getting Dr. Simmons at the perfect time. "Dr. Wright planted the seed and I think that President Ruth will make it blossom," he commented.
Jones is a senior agriculture economics major from Houston, Texas. Upon graduation, he plans to continue on with a career in politics. His future goal is to be the first Black governor of Texas. With the track he is on I have no doubt he will achieve that dream and continue to be a productive person of the Prairie View A&M University.