Houston, We Have A Quarterback
Demez White | 4/28/2017, 7:58 a.m.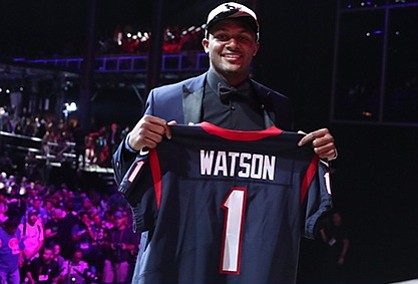 Last night, I was sitting at my desk writing and watching a split screen on my television. Half of it was on the NFL Draft and the other half was on the NBA Playoffs. The Lakers aren't in the playoffs and the Rockets already won so the television really wasn't holding my interest. That's until I got an alert on my phone that says, "The Houston Texans just traded up to the 12th pick." Being a football fan you understand there's only one reason a team gives up a 1st round draft pick, that reason is to get a quarterback.
Unmuting the television and standing up, I held my phone in my hand while the NFL Commissioner made the announcement. "With the 12th pick in the NFL Draft, the Houston Texans select… Deshaun Watson from Clemson University."

The Houston Texans haven't given the city or their fans this much hope in a long time. You can build the offensive line up. You can get cornerbacks and linebackers. But nothing and no one brings fans to their feet like drafting a guy that can potentially lead your team to a championship.
Deshaun Watson is a 6'2, 221 pounds guy that has won at every level that he has played. He has high school state championships, college championship and more than that he's a leader. He is a guy that teammates rally around and want to play with and play for. Before Watson got to Clemson, they weren't competing with Florida State and Alabama for national titles but with him, they not only competed, they won one.
I may be a hopeless romantic when it comes to dating or marriage but when it comes to sports, not so much. Today, the morning after my hometown team drafts a QB that should have gone as the number one pick, I'm a hopeless romantic for sports.