H-E-B Celebrates Earth Day with New Eco-Friendly Reusable Bags
H-E-B Celebrates Earth Day with New Eco-Friendly Reusable Bags Retailer Giving Away 180,000 Bags Designed by Texas Artist Becca Borrelli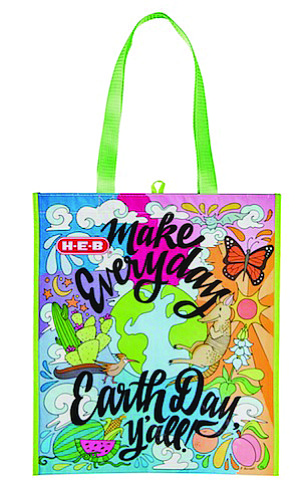 Long known for its commitment to sustainable business practices and environmental stewardship, H-E-B is making Texas a little brighter this Earth Day with its new eco-friendly Earth Day reusable bag. On Saturday, April 22, H-E-B will give away 180,000 colorful Earth Day reusable bags, designed by a Texas artist and made from at least 75 percent recycled plastic bottles and containers, to customers across the state.
Texas artist Becca Borrelli, who illustrates adult coloring books and pages as a way to make art accessible to all, designed this year's Earth Day bag. The design is reminiscent of a coloring book and features the iconic Texas armadillo and bluebonnet, and a call to make everyday Earth Day.
Beginning at 11 a.m. on Saturday, April 22, 2017, H-E-B will giveaway 180,000 bags at checkout stands to shoppers statewide, while supplies last. The first bag is free, and shoppers have the option to purchase additional bags for $1.50 each.
"Every day our customers find ways big and small to take care of our environment—whether it's doing their grocery shopping with reusable bags, composting and recycling at home, or donating to environmental nonprofits, it all adds up," said Cyndy Garza-Roberts, H-E-B Director of Public Affairs– Houston Region. "We're thrilled to provide the bags to our customers, and we hope it is one of many actions taking place across the state that combined, will make a big impact on our environment."
Like the slogan on this year's bag, H-E-B is encouraging customers to make everyday Earth Day through a checkstand tear pad campaign in partnership with EarthShare of Texas, a nonprofit that supports dozens of respected environmental and conservation groups. Customers can choose to donate $1, $3 or $5 at checkout to be added to their grocery bill. Last year shoppers donated an impressive $140,000 to the Texas nonprofit during the April 2016 tear pad campaign.