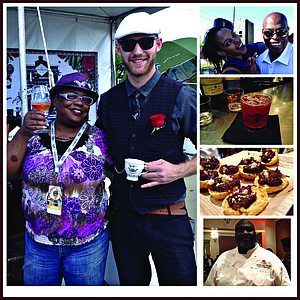 This year marked the fourteenth year in a row that the City of Sugar Land and Fort Bend County hosted the annual wine and food event that attracts crowds of foodies, media bloggers, wine aficionados, and faithful attendees flocking to the fair grounds of The Imperial Sugar Complex.
The major events kicked off with The Grand Tasting at The Sugar Land Marriott in The Ballroom of the main floor, and concluded with The Sip and Stroll the following days.
The Grand Tasting began at the entrance of the ballroom with Marriott Executive Chef Kourtenie Tyson and his crew who treated us to shrimp and grits with sausage gravy and one of the most auspicious and delicious bites I had that evening, which was Oxtail Marmalade on a Jalapeño Biscuit. For those of us who are familiar with Chef Tyson's food, we are aware that his table runs out of before one can make a second or third trip. This year was a little different, only because the crowd was smaller, which worked in this writer's favor because I could visit with the chef and his crew.
Chef Tyson has been at The Sugar Land location for five years. Although he didn't start his career as the boss of the kitchen, he earned his position through hard work and his ability to cook well and manage a team.

Later on that evening, I met up with Chef Ricky Cruz, who is The Executive Chef at Grotto's, and he wowed the crowd again with his Handmade Ravioli Stuffed with Chilean Sea Bass. The pasta was cooked perfectly, the fish was well-seasoned, and the sauce tied it all together.

Last but not least on my favorites that night was Chef Antoine Ware of Harold's Restaurant. He nearly knocked us over with his pork dish, which I devoured so fast, I didn't get a photo. However, visit their venue located at 350 West 19th Street in Houston, Texas.
Now for the cocktails, this year I passed on the wine to enjoy one of my favorite libations: Hendrick's Gin. Brand Ambassadors Nathan S. Reffell and Mattias Horseman greeted us. Their station kept long lines with repeat patrons who visited often.
Finally, The Sip and Stroll drew a large crowd even though there seemed to be fewer vendors than the previous years. Nonetheless, this writer had a great time dancing, meeting so many talented people and accumulating a few more Facebook friends and followers of Houston Style Magazine.
Please keep up with all of Team Style Mag by following us on: Facebook, Twitter and Instagram.