Young Black Inventor's Device Locates Lost Kids
Innovative New 'Gotcha' GPS Tracking Device Ensures Nothing Will Ever Be Lost Again, Not Even a Kid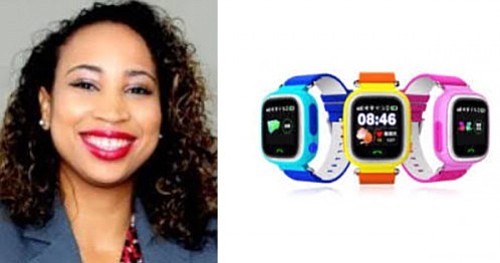 San Jose, CA — Find My Everything Inc. is excited to announce today the release of its practical and exceptionally functional tracking apparatus that will enable users to locate misplaced or stolen personal items no matter where they are. Company founder and CEO, Taylor Baloney is the smart young inventor of 'Gotcha' GPS Tracking Device. Using a downloaded smartphone application, the device will help track and find anything, including purses, backpacks, luggage, and even kids. Available in variety of styles, designs, and colors to appeal to consumers of all ages, the tracking device will be about the size of a keychain, which can be attached to handbags, wallets, pets, and other essential items with a small clip.
The tracking device will be linked to an app on a smartphone or tablet to aid when needing to locate misplaced or stolen items. Consumers will be able to locate items using the GPS map on their screens. The app will also activate a beeping sound from the tracking device, so the closer the user is to the missing item, the louder the sound. Users can input multiple trackers onto the app, and each one will have a different little picture or name on the GPS map. The locator service—which functions anywhere in the U.S. that has cellular coverage – will run on the cloud, and data transmitted from the tracking device to the user's smartphone or tablet.
As currently designed in the technical drawings and 3-D models, the invention has unique features not presently available in the marketplace.
View a message from the tracking device inventor

Be among the first to order your watch tracking device at a special pre-order discounted price at www.findmyeverything.org/products.
Today's society is always seeking new ways to make our lives more convenient and less stressful. Baloney agrees, which is precisely why she developed this product. "I have a passionate sense of pride about this concept," said inventor Taylor Baloney. "I believe that it deserves vigilant attention and consideration. A great many markets exist for such an innovative concept like 'Find My Everything' GPS Tracking Device as consumers everywhere will appreciate the benefits and convenience this product provides. General supply stores like Wal-Mart and Target; retail pharmacies like CVS and Walgreens; and specialized stores like Best Buy and Office Depot would be logical retailers for both products."
GOTCHA' GPS WATCH TRACKER REVIEW:
Google Security and Privacy Product Manager, Michee Smith, tested the Gotcha GPS Tracking Device by having her kindergartner wear the watch tracker during the day for a week. "I found the device is extremely accurate! On my mobile app, I was able to view everywhere she went," Smith said. "And my daughter had the ability to send an emergency call to me and a message." The computer engineer continued, "The app has a cool feature that allows the user to replay the location over a couple of days. I also like that the device has a step counter, so it incorporates a bit of health awareness as well. The watch is well designed for kids in that it doesn't have games, so my child didn't get distracted while at school. All in all, I think it's a great product, especially for a mom like me that wants the peace to know my children are safe and in the place where they're supposed to be."