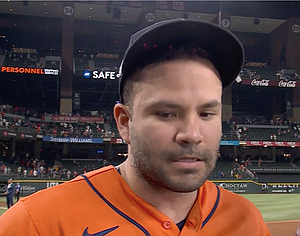 ARLINGTON -- A city held its breath, and a hero delivered. On what can only be described as a cinematic Friday night, Jose Altuve further etched his name into the annals of Astros baseball with a legendary three-run homer that has the Houston fans buzzing in ecstasy.
The stage was Globe Life Field, the stakes - a ticket to the World Series for the third consecutive year. And as the Astros trailed by a run, it was Altuve who stepped up, dispatching a scorching shot off the Rangers' star closer, José Leclerc. The result? A 5-4 jaw-dropping comeback win for the Astros in Game 5 of the American League Championship Series.
Alex Bregman, the Astros' stalwart third baseman, summed it up best, "It was an incredible baseball game. We're just super fortunate to come out on top against one of the best teams globally."
The narrative was loaded with drama. Before Altuve's heroics, an altercation saw two players ejected along with Astros manager Dusty Baker. But adversity fuels champions. Altuve, with his 26th career playoff home run, perhaps delivered the most consequential of them all. The elation was evident in his voice as he expressed, "It was a cool moment, and because we ended up winning."
But victories demand collective heroism. Ryan Pressly, the Astros' closer, was thrown into the deep end in the eighth inning. He showcased nerves of steel, working through a challenging ninth to ensure Altuve's efforts weren't in vain.
"We play for each other," Pressly remarked. "Every time we step out there, it's for the love of the game and for this team."
With this win, the Astros have taken a lead in the ALCS, 3-2. As they head to their home ground for Game 6 at Minute Maid Park, the stats and history favor them. They remain undefeated in ALCS Game 6's (4-0), including a perfect 3-0 record at home.
Yet, it wasn't all smooth sailing. The Rangers, displaying their own brand of resilience, took a two-run lead in the sixth, thanks to a magnificent three-run homer by Adolis García. Controversy erupted when García was hit by a pitch in the eighth, leading to a heated exchange and the aforementioned ejections.
But champions thrive in adversity. The ninth saw the Astros rally, with Yainer Diaz and Jon Singleton setting the stage for Altuve's moment of magic. As the ball soared over the left-field wall, euphoria engulfed the Astros' camp.
The dream of another World Series appearance is tantalizingly close. Alex Bregman encapsulated the sentiment perfectly, "Everyone was just super excited... He's one of the best pitchers in the world. Just try to stay focused and get three outs."
For the fans of Houston Style Magazine and Astros enthusiasts worldwide, the road to the World Series is lit with anticipation and hope. The city of Houston is ready, and so are its heroes.