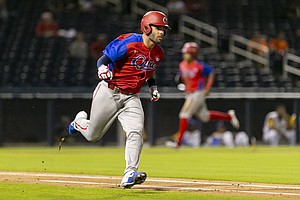 Originally Published: 21 MAR 23 08:44 ET
Updated: 21 MAR 23 09:00 ET
By Jill Martin, CNN
(CNN) -- After being eliminated from the World Baseball Classic by the US team in Miami on Sunday, the Cuban team landed in Havana on Monday without one of its players.
Ivan Prieto Gonzalez, a 26-year-old catcher, has defected from his home nation, Major League Baseball officials confirmed to USA Today's Bob Nightengale.
CNN's Patrick Oppmann in Havana reports that Cuba's president met the team and congratulated the players upon arrival, but has not said anything about the defection.
Cuba lost to the US 14-2 in the semifinals Sunday. Team USA, a win away from becoming back-to-back World Baseball Classic champions, will face Japan in the final Tuesday in Miami.
Japan has won the World Baseball Classic twice, with back-to-back titles in 2006 and 2009.