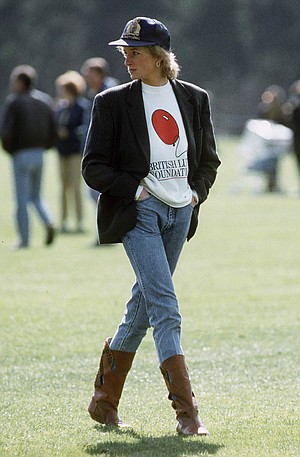 Originally Published: 17 AUG 23 08:02 ET
By Amaya McDonald, CNN
(CNN) — Throughout the 20th century, fashion influenced — and was influenced by — the culture and social movements of its time, across global and hyperlocal spaces. Today, for instance, we still associate flapper dresses with the Prohibition era, for example, or Kangol hats with the birth of hip-hop.
Fashion has always broken boundaries and captured the zeitgeist. But it has also evolved from a marker of social status into a tool of self-expression. This list of some of the 20th century's most recognizable style icons shows the extent of that transformation, and how key figures in popular culture helped change our clothes, literally — and the ways we wear them.
What makes a fashion icon?
A fashion icon is someone who creates a recognizable style unique to them and the environment they live in. By deviating from — or embodying — the status quo, and taking risks to establish their own visual identity, fashion icons start and popularize trends that come to define mainstream culture.
1900s: Camille Clifford
In the early 1900s, the "Gibson Girl" symbolized the modern, independent American woman. Originally conceptualized and illustrated by artist Charles Dana Gibson, the Gibson Girl was tall and elegant, with an hourglass figure. Belgian-born actress Camille Clifford was celebrated for embodying this aesthetic, as intricate updos and long, form-fitting dresses (which flattered exaggerated, S-shaped silhouettes) took over women's fashion.
1910s: Paul and Denise Poiret
The war efforts of the 1910s required more women in the Western world to join the workforce. Subsequently, the decade's hemlines were shortened to allow for greater movement, while dresses became much looser, abolishing the need for corsets. Known as "The King of Fashion" at the time, designer Paul Poiret is widely-credited with the corset's demise. Introducing the "lampshade" tunic and chemise dresses to women's fashion, Poiret was inspired by his wife, Denise Poiret, who also endorsed and modeled his harem pants — a controversial piece of clothing, as pants were almost exclusively worn by men at the time.
1920s: Josephine Baker and Coco Chanel
Symbolic of the "Roaring '20s," flapper fashion famously included dresses with dropped waists, shorter hemlines, sequins and lots of fringe. Womenswear embraced more androgynous styles, with simple lines and looser fits. Some women even opted to wear undergarments called step-ins, which minimized the appearance of natural curves to better fit the "boyish" flapper aesthetic.
One of the Jazz Age's best-known figures, singer and dancer Josephine Baker embodied the flapper look. French designer Coco Chanel also helped to popularize the style, alongside other wardrobe staples that remain en vogue, like the classic little black dress. Often inspired by menswear, Chanel had earlier introduced the two-piece tweed suit that went on to become one of her eponymous label's most iconic designs. Her work established that clothes could be both fashionable and functional for working women.
1930s: Marlene Dietrich and Katharine Hepburnn
In the 1930s, hemlines dropped and waistlines rose to accentuate a more feminine silhouette. But the aftermath of the Great Depression also saw Western fashion return to more conservative styles. Smart suits — or dresses designed to look like suits — became popular, along with padded shoulders and patterned day dresses.
Marlene Dietrich was among those in this moment starting to defy gender norms in fashion. Normalizing androgyny through her work in cinema, the German actress wore men's clothing, on and off the screen, challenging the era's monolithic notions of femininity.
Actress Katharine Hepburn was also known for her understated, radical style. Off-screen, she regularly wore blue jeans or high-waisted slacks and button-down shirts, modeling what would later become known as a quintessential "American look."
1940s: Cab Calloway
While many different variations of suits and formalwear have dominated men's fashion in the 20th century, the 1940s "zoot suit" might be the most iconic. Featuring long, oversized coats with padded shoulders, and paired with high-waisted, wide-legged trousers, zoot suits originated in urban neighborhoods across the United States, and were popularized by African American performers in the jazz scene. As swing dance became mainstream, the zoot suit became something of a uniform for trendsetters like Louis Armstrong, Sammy Davis Jr. and Cab Calloway, who was famous for his performances at Harlem's Cotton Club.
1950s: James Dean and Marilyn Monroe
In the '50s, a new vision of teenage life emerged as young adults distanced themselves from old-fashioned habits and parental expectations to create their own generational culture. Many working-class teenagers were drawn to the rebellious styles epitomized by actors like James Dean, who famously wore a plain white T-shirt, a red nylon jacket and jeans in the 1995 film "Rebel Without a Cause."
Dean's look came to represent a generation wrestling with angst and ennui following the end during the aftermath of World War II and the beginning emergence of a new Cold War. The counter-cultural style popularized by Dean and other actors like Marlon Brando rejected the more formal fashion worn by the GI Generation.
Marilyn Monroe offered the decade's young women a very different — though no less iconoclastic — new ideal. Sporting wiggle dresses, one-shoulder gowns and halter tops that accentuated her figure, the blonde bombshell was a symbol of sexual freedom and body positivity.
1960s: Audrey Hepburn and Jackie Kennedy
The 1960s were characterized by a range of diverse fashion trends, including "Space Age" style, hippie fashion and the Mod movement. Each of these subcultures had its own, unique characteristics. English model Lesley Hornby, better known as Twiggy, was considered a daring dresser in futuristic styles along with shift dresses, miniskirts and braless outfits; rockstar Jimi Hendrix embraced the hippie aesthetic, wearing bell-bottom jeans, embellished vests, vintage military jackets and fringe.
While her style was famously simple and elegant, movie star Audrey Hepburn subtly incorporated elements of each of these trends in her wardrobe. A muse to Hubert de Givenchy, Hepburn accented her specially tailored clothes with oversized sunglasses, ballet flats and statement earrings. First Lady Jackie Kennedy was also known to accessorize, usually with her signature pillbox hat and a pair of elbow-length white gloves. Kennedy's style was chic but accessible, allowing her to connect with the public through fashion in a way that previous First Ladies had struggled to. Her personality shone through her wardrobe, which spearheaded trends in womenswear including dress suits, trench coats and capri pants.
1970s: Diana Ross and David Bowie
The '70s in America were known as the "Me Decade," a term coined by author Tom Wolfe in an essay predicting the country's "Third Great Awakening." People sought new ways to express their individuality, sexuality and confidence in their bodies; tube tops, flared jeans and hot pants became wardrobe staples. And when it came to dressing up for a night out, Motown royalty Diana Ross was the blueprint. Ross was the perfect picture of '70s glamour, often performing in sparkly, form-fitting jumpsuits paired with iconic big hairdos.
David Bowie is also remembered for his eye-catching performance attire. Adopting multiple alter egos throughout his career, including the iconic Ziggy Stardust who debuted in 1972 (and was retired by Bowie just one year later), Bowie embraced eccentric styles and challenged traditional ideas of masculinity by wearing platform shoes, one-legged jumpsuits and dresses.
1980s: Princess Diana and Prince
What we today know as "athleisure" took off in the '80s. Dancewear and sportswear became more acceptable in day-to-day life following the 1983 release of "Flashdance" and the jazzercise fitness craze that normalized bodysuits and leg warmers. One of the early champions of athleisure was Princess Diana, who could make a simple biker shorts and sweatshirt combo look classy. While other members of the British royal family followed a strict dress code, Princess Di was known for taking risks by following — and popularizing — mainstream fashion trends during and after her marriage to then-Prince Charles.
Meanwhile, the artist known as Prince made his mark in the fashion world, following in the footsteps of Bowie while walking his own path. Prince was a maximalist, using fashion as a tool for self-expression and also incorporated womenswear into his wardrobe to defy gender stereotypes. Some of his most memorable style choices included monochromatic outfits, ruffled shirts and feather boas.
1990s: Michael Jordan and Aaliyah
While Michael Jordan is best known for his basketball career, his approach to fashion, on and off the court, heavily influenced menswear in the 90s. After the release of Air Jordan sneakers in the mid-80s, everyone from athletes to rappers to school children wanted to "be like Mike," to quote a famous '90s commercial. By mixing sportswear and formalwear, Jordan showed how to dress down the era's oversized power suits, substituting formal shirts for T-shirts or crewnecks and replacing loafers with sneakers.
Streetwear was also impacted by the style of R&B singer Aaliyah. Her chic tomboy style was characterized by baggy jeans paired with crop tops or bandeaus, blending hip-hop fashion with her own femininity.
And the list goes on…
From Anna May Wong's dragon dress to Grace Jones' tuxedo blazer; Little Richard's eyeliner to Madonna's cone bra to Kurt Cobain's grunge knits. Even amid increasingly frenetic (and blurred) cycles of fashion, we continue to draw from the wardrobes of fashion icons from across the past century and credit modern looks to those who dared to take risks and challenge restrictive social norms. A trendsetting attitude, after all, is one that will never go out of style.