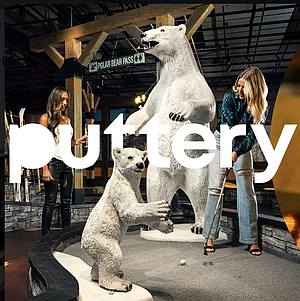 This week celebrates International Mini Golf Day, and there is a new mini golf experience that satisfies those that are a kid at heart, foodies, and cocktail enthusiasts! Puttery is Houston's newest grown and sexy mini golf hotspot changing how we enjoy mini golf. Puttery, located on Washington Ave, brings three bars, three mini golf courses, and an amazingly great time for your next date night, meetup, or kickback!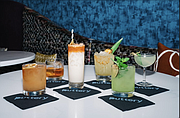 Their drink and food menu is definitely for Houston's foodies and cocktail enthusiasts. Their menu includes upscale classics like Lamb Sliders, Tuna Tostada, and Sous Vide Pork Belly. They have also curated a fabulous cocktail menu that includes their "BBQ on a Saturday Night" cocktail with bourbon, honey, smoked peach, lemon, and bitters. You can have a sip of one of their curated cocktails as you play on their transformative courses. Making the game a ton more fun!
The classic windmill and clown mini golf course are now of the past, and Puttery has three mini golf courses that are perfect for modern times, The Library, The Lodge, and The Conservatory. Each course is a 9-hole experience with digital scorekeeping and a scoreboard that everyone in the course can see. Puttery has put great details into each course. There are many great spots for selfies, and in the lodge, you can take cute pics by the ski lift. Puttery has a sophisticated flare that can be appreciated by adults but satisfies the inner child.
Next time you are looking for a place that includes elements of fun, sexy, and adventure, Puttery is the spot! To learn more about Puttery, visit puttery.com and follow them on Instagram @putteryofficial.
Alexandria Jack writes about food and culinary focused events for Houston Style Magazine. Follow her on Instagram (@dinnerwithalexandria) or Twitter (@foodwriteralex). Send her news tips to editorial@stylemagazine.com.