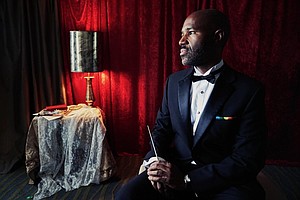 Take a musical journey through time as the Symphony pays homage to over a century of trailblazing Black artists, from classical music to ragtime, jazz, classic rock, and beyond! Rock out to Jimi Hendrix's "Purple Haze," dance to Scott Joplin's "The Entertainer" and Florence Price's exhilarating "Juba" Dance, and much more! This program will also feature a special performance by American Idol contestant Douglas Mills Jr., and students from Kinder High School for the Performing and Visual Arts. This all-ages Saturday morning concert comes with kid-friendly activities, including our popular Instrument Petting Zoo.
Featured artists for this production include Daniel Bartholomew-Poyser, conductor; Rainel Joubert, violin; Douglas Mills, Jr., vocalist; Kinder HSPVA vocal department; Julia Hall, chair; Tierra Bowers, HSPVA vocalist; Israel Fox, HSPVA vocalist; and Laura Walls, HSPVA vocalist.
Canadian conductor Bartholomew-Poyser, a passionate communicator, brings clarity and meaning to the concert hall, fostering deep connections between audiences and performers. An innovative, creative visionary, he believes the beauty of music can heal and unite all of us beyond our differences. Bartholomew-Poyser is the resident conductor of engagement and education at the San Francisco Symphony, the Barrett principal education conductor and community ambassador of the Toronto Symphony Orchestra, and the principal youth conductor and creative partner with the National Arts Centre Orchestra in Ottawa. He also is the artist in residence and community ambassador of Symphony Nova Scotia, conducting ballet and pops with national and international artists and designing diverse and relevant family and outreach shows for the Halifax community. He hosts the weekly Canadian Broadcasting Corporation radio show Centre Stage—with Daniel Bartholomew-Poyser.

Bartholomew-Poyser has conducted leading orchestras throughout North America. He was a guest conductor with the Washington National Opera at the Kennedy Centre in 2020. Additionally, he has served as assistant conductor of the Kitchener-Waterloo Symphony and associate conductor of the Thunder Bay Symphony Orchestra. In April 2022, Bartholomew-Poyser debuted with Carnegie Hall's Link Up Orchestra, conducting the world premiere of Ram Tori Maya by Indian American composer Reena Esmail and We Shall Not Be Moved, arranged by American vocalist and composer Nathalie Joachim.

He was featured in the 2019 CBC documentary Disruptor Conductor, directed by Sharon Lewis. Along with RuPaul's Drag Race star Thorgy Thor, the documentary follows Daniel as he collaboratively creates Canada's first orchestral drag queen show, Thorgy, and the Thorchestra. The award-winning documentary focuses on Bartholomew-Poyser's concerts for the Neurodiverse, Prison, African Diaspora, and LGBTQ2S+ populations.
Bartholomew-Poyser holds a Bachelor of Music Performance and education from the University of Calgary and a Master of Philosophy in performance from the Royal Northern College of Music in Manchester, England. He has received the Canada Council for the Arts Jean-Marie Beaudet Prize for Orchestral Conducting, the RBC Royal Bank Emerging Artist Grant, and the Canada Council for the Arts Jean Baudet Prize for Orchestral Conducting. Daniel is a member of the Ontario College of Teachers.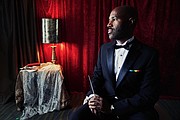 One of the many Houston-raised talents on the stage will be vocalist Douglas Mills, Jr. is a freshman at Sam Houston State University and an alumnus of Kinder HSPVA's vocal department. He received a golden ticket to participate in the most recent season of American Idol, where he advanced to the top 50. He was also a merit winner for the 2021 National YoungArts Foundation. He is currently studying music therapy to help others the way music helped him and hoped to continue growing in experience to give back to the community.
The Houston Symphony continues to be at the forefront of outreach and education to educate youth worldwide. The Saturday afternoon concert will be filled with combining all types of music with the world-class Houston Symphony.
"Celebrating Black Composers: Ellington, Hendrix, Price & More" will be Saturday, October 8, 2022, at Jones Hall with two shows at 10 a.m. and 11:30 a.m. Tickets range from $22-$34. Children of all ages, including infants, are welcome at Family Series performances. All patrons must have a ticket when entering the concert venue. Lap children are welcome for free. For lap child tickets, please contact our Patron Services Center at 713.224.7575, 12 noon–6 p.m., Monday–Saturday.
See you at the Symphony!