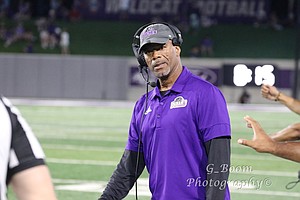 Coming off a disappointing 21-13 loss to Abilene Christian University (2-0), the Prairie View Panthers (1-1) will face another formidable opponent as Incarnate Word (2-0) visits the Panthers at Blackshear at 6 p.m. CST.
Prairie View started strong against Abilene Christian last week. They scored on their first possession when quarterback Trazon Connley connected with receiver Jailon Howard for a 26-yard touchdown to put PV up 7-0. The Wildcats would respond later in the quarter with a 15-yard pass from Texas Tech transfer quarterback Mackenzie McIvor to Jed Castles to tie the game.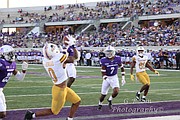 Prairie View's defense would finally settle in and make it rough for Abilene to get anything going offensively. After a Luis Reyes 46-yard field goal put the Panthers up 10-7, the defense produced three straight turnovers by way of interceptions. Cornerback Gerald Smith, who was inserted into the game in the second quarter, came up big with back-to-back picks to stop the Wildcats' momentum.
"Our coaches put us in a good position, and we came out and executed the play style and play calls that were ran," said red-shirt senior Gerald Smith. "My safety had great help which allowed me to play faster, my defensive line and linebackers were everywhere they needed to be. That made my job a lot easier and I was in position to make the play."
Using the defense to control the game seemed to be the plan for first-year head coach McDowell. As a former defensive back in the NFL, he knows what it looks like when the defense is in sync, and they were limiting the Wildcats to 32 yards rushing in the first half and causing multiple turnovers to keep Abilene's offense off the field.
The plan may have worked too well and given coach McDowell a false sense of hope as he made a crucial mistake with the offense on the field. Early in the third quarter, Prairie View drove from their 16-yard line to ACU's 21-yard line in nine plays. Facing fourth and four from right outside the Wildcats' RedZone, coach McDowell decided to go for the first down instead of attempting a field goal to increase the Panthers' 13-7 lead.
"I thought we were on a momentum swing at that particular time," coach McDowell said. "Hindsight, looking back on it, I'm an old school guy and normally I am going to go for the points, but I can guarantee you that it won't happen again. I am going to take those points."
That stop would be all the momentum the Wildcats needed as they scored 14 points in the second half to take a 21-13 lead that would eventually be the game's final score.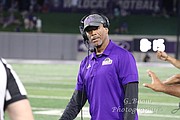 Prairie View will not have time to think about the game that got away from them as they prepare for another strong opponent looking to stay undefeated on the season in Incarnate Word. The Cardinals are currently ranked No. 6 in the FCS Stats Perform Poll, coming off a 55-41 victory over Nevada.
They have outscored their first two opponents by a 119-70 margin and are second in the nation in scoring offense at 59.5 ppg.
Cardinals' receiver Darion Chafin and quarterback Lindsey Scott Jr. have formed a potent dynamic duo and have been on the same page for the first two weeks of the season. Chafin, named Southland Conference Player of the Week for his 262 yards receiving against Nevada, is also the FCS national leader in receiving yards.
Incarnate Word didn't know how they would handle losing quarterback Cameron Ward who transferred to Washington State after leading the team to a 10-3 record by throwing for 4,648 yards, 47 touchdowns, and ten interceptions last season.
They seem to have figured it out quickly. With Scott under center, the Cardinals lead the nation in passing offense at 428.5 yards per game. Which also ranks him second in passing yards at 398.5 per contest.
"We are looking at film on him (Scott) and he is getting the ball out just as quick as Cam (Ward) did last year," said coach McDowell about the Cardinals starting QB. "There is a reason they are scoring points like that because they have some athletes on that side of the ball. They do what they do well."
"Going into this game I told my guys that we cannot go in there with our heads down and not knowing what we are supposed to be doing. If we do, we are going to get embarrassed in our home stadium. So, we have to go in with the attitude that we can win this game. We can play football with these guys if we do what we are supposed to do."