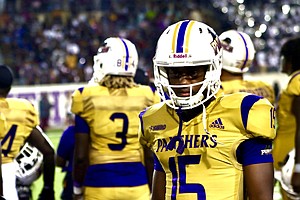 As Prairie View A&M starting quarterback Trazon Connley lay on the field during the third quarter while the training staff attended to him. One player looking intently from the sideline, hoping his teammate was not seriously injured, was true freshman quarterback C.J.Dumas.
Yet, in the back of his mind, he knew that if Connley could not return to the game and backup quarterback, Chris Herron did not perform well, he could be thrust into action against Texas Southern.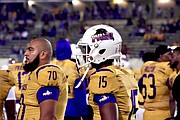 Connley's injury was minor and with the Panthers leading 31-14 at the time. PV head coach Bubba McDowell decided it was best to keep him out and use him for emergency purposes only.
Herron came in the game and picked up where Connley left off by leading the Panthers on another scoring drive to increase the lead to 37-14. Still, on the next drive, he threw an interception to Tigers defensive back Isaiah Hamilton who returned it for a touchdown.
Sensing a shift in momentum, coach McDowell decided to give his freshman quarterback a chance to calm the waters. Dumas did that by helping control the clock and being instrumental in not turning the ball over in Prairie View's 40-23 win over Texas Southern in the Labor Day Classic.
"It just felt great to be able to go out there and prove to everybody that I can play on a collegiate level," said Dumas. "As a freshman, not many people get to do the stuff that I got to do. So, it is just a great feeling to be able to get my feet wet. Coach just told me to stay ready at all times. Football is a game where stuff happens, and you just got to stay prepared. Whenever I seen Trazon (Connley) go down, I had to get my mind right to go out there and fill his shoes."
Dumas, who led Katy Paetow to the 2021Class 5A Division I State Championship title last year, is used to playing in a pressure-filled situation. Yet, he admits that seeing his first action in front of the Panthers' home crowd and the magnitude of playing in the Labor Day Classic made him a little nervous as he entered the game.
"The state championship was a little different because I was 'That guy,'" said Dumas during his postgame press conference on Blackshear Field. "I was starting that entire season. I am not going to lie, when Trazon went down I did get a little nervous, but I knew it was just another football game. So, I just had to go out there and play. I did feel like this made me more nervous because it was my first time out here, but I just went out there and played my game."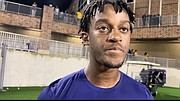 What made this moment even more special for Dumas was his parents and sister were in the stands supporting him as they have done throughout his entire career. His father, Channing Dumas Sr., didn't know if his son would get any playing time on Saturday, but when he saw him enter the game in the second half, he knew that CJ was prepared.
"It was very special because he has been doing this since he was six years old," said Dumas Sr. "All he has ever wanted to do was play football on a Division I level. Just to see him out here playing was surreal, as a dad and someone who used to coach him. So just seeing him out on the field living his dream, that is all you ever want to do as a parent. It was great for us."