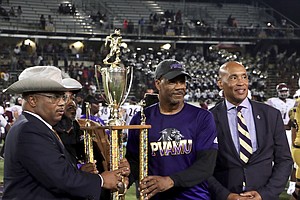 After waiting for over an hour due to inclement weather, Prairie View A&M and Texas Southern were finally able to open their 2022 season in the annual Labor Day Classic. The Panthers improved their record to 8-0 against the Tigers in their last eight matchups with a 40-23 win, as Prairie View has not lost to Texas Southern since August 31, 2014.
"That is the ultimate goal, because we don't lose to TSU," said sophomore running back Ja'den Stewart after the game. "They are a hard fighting team and I give props to them, but with our O-Line and how we execute, that is a big thing that we work on is our execution."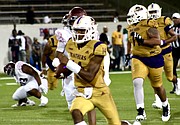 Former NFL defensive back Bubba McDowell, who spent six seasons with the Houston Oilers, earned his first victory as a head coach with Saturday's win. McDowell has spent the last 11 seasons as an assistant at Prairie View and was awarded the head coaching job after Eric Dooley left to coach Southern University.
"It felt really great, and I am ecstatic to be honest with you," said coach McDowell after the game about the win. "It has been a long time coming and things we have been preparing and working on. A lot of adversity we have went through as a team and a coaching staff. To get to where we are today, I am grateful and blessed to be with some young men that went out there and played four quarters of football."
Led by head coach Clarence McKinney, Texas Southern looked as if they were determined to let Prairie View know that they did not travel over 50 miles from Houston just to play the first game on their schedule. The Tigers scored on their opening drive when junior running back Jacorey Howard rushed for a 25-yard touchdown to give TSU an early 7-0 lead.
The Panthers would answer on their first possession with a four-yard touchdown run by Ja'den Stewart to tie the game.
After a solid defensive effort by Prairie View to hold TSU to a three-and-out, redshirt junior Bryce Turner blocked a punt to give the Panthers excellent field position as they scored on the next play when quarterback Trazon Connley scampered into the end zone on a 13-yard run.
Prairie View never relinquished the lead after taking a 24-14 lead into halftime. They would blow the game open when Connley scored his second touchdown with a 70-yard run down the left side of the field in the third quarter to increase the score to 31-14. He would be removed from the game on the next drive due to cramping and was only available in emergencies.
True freshman quarterback C.J. Dumas, who led Katy Paetow to a Class 5A state championship last season, was inserted into the game after backup Chris Herron threw an interception to Tigers cornerback Isaiah Hamilton that he took to the endzone for a touchdown. Dumas helped lead the Panthers on two scoring drives that sealed the victory for Prairie View.
Both teams will be on the road for their next game as Prairie View will back in action against Abilene Christian, while Texas Southern will face North Texas.