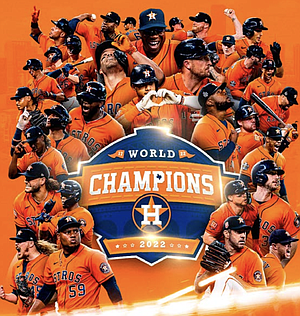 The fans of the Seattle Mariners (American League Division Series), New York Yankees (American League Championship Series), and Philadelphia Phillies (World Series) all had a mantra before facing the Houston Astros this postseason: "WE WANT HOUSTON".
It has been said numerous times – and fans of those respective teams were warned to be careful what they wished for because…, well. That wish didn't quite work out so well for the Astros' opponents this postseason as Houston finished with a 10-2 record capped off with a 4-1 win over the Phillies in Game 6 of the World Series to win their second title in six years. The Astros become the first team to clinch the World Series on its home field since 2013!
"These guys, they know how to win," said Astros manager Dusty Baker. "They come to play. No alibis, no excuses. You can come in our clubhouse; you can't tell the next day if we lost or if we won. So, these guys are very consistent in their personality and the confidence that they have in themselves."
That confidence was something Houston had to lean on late in the game against a scrappy Phillies team that wouldn't go away.

As the bottom of the sixth inning was set to begin, the 42,958 in attendance, predominantly Houston Astros fans, were not in panic mode just yet. Some sense of nervousness was stirring on the inside of those that had watched the Astros lose Game 6 of the World Series before at Minute Maid Park. The Washington Nationals (2019) and Atlanta Braves (2021) defeated Houston in their ballpark.
So, when Philadelphia Phillies left fielder Kyle Schwarber hit a solo home run to right field off Astros starter Framber Valdez to give the Phillies a 1-0 lead, one could feel some uneasiness in the air. Judging by the way Philadelphia starter Zack Wheeler had been pitching up to that point, one run could have been all it took to force a Game 7 and set up another visiting team celebrating a World Series victory on Houston's home field for the third time in four years.
Valdez (3-0) would recover from the Schwarber right field blast to get the next three Phillies batters out, but the damage had already been done.
Philadelphia had every reason to feel confident with the one-run lead as Wheeler (1-3) kept the Houston batters from causing significant damage through the first five innings of the game. With his low pitch count, the Phillies could rely on him for at least another inning or two before going to the bullpen. All he had to do was continue to freeze the bats of one of the most dangerous lineups in the majors.
That last sentence is easier said than done, as the Astros opponents tried to do that in the regular season, leading to 106 victories. Coming into Game 6, Houston had a postseason record of 9-2, and some argue that it should have been 11-0.
As Astros catcher Martín Maldonado approached the plate to start the inning, all he had on his mind was to get on base by any means necessary, even if that meant sacrificing his injured body. Maldonado entered the game with a broken hand and a hernia and refused to miss any playing time during the World Series.
So, it had to feel like a mosquito bite when he was hit on his left elbow by Wheeler with a 1-1 count. Wheeler still had confidence that he could make it through the sixth inning as he faced leadoff hitter Jose Altuve, especially with Maldonado, who is not very fast on the base path. Altuve grounded into a force out at second but beat the throw to first base.
The Phillies still felt as if they were in control with a runner on first base and the double-play option still at their disposal, yet they didn't fully consider who the next batter was.
Rookie shortstop Jeremy Peña has been outstanding for Houston this season. The ALCS MVP never gets rattled at the plate, as his .333 batting average entering Game 6 proved. It was no surprise to the fans or his teammates when he singled to center field to advance Altuve to third base, as he has come up big every time the Astros have needed him too. In true Peña fashion, he wanted no part of the credit for keeping the inning alive.
"I mean, first of all, shoutout to Altuve for beating out the double play," said Peña, who was also named World Series MVP. "You can't teach hustle. He's hustled all year. He leads by example, and that's something I always look up to. Yeah, it was just pass-the-baton mentality, get on base, and let Yordan do his thing."
Phillies manager Rob Thomson had played the odds long enough with Wheeler on the mound.
"I thought Wheels (Wheeler) still had really good stuff," said Thomson in his postgame press conference. "I thought the matchup was better with Alvarado on Álvarez at that time. I just thought that that was a key moment in the game and that was a momentum swing that I thought Alvarado had a chance to strike him out."
Alvarado never really had a chance as Alvarez came to the plate aggressively, and on the fourth pitch, he launched a 450-foot three-run homer to the standing-room-only section in center field to give the Astros a 3-1 lead. Catcher Christian Vasquez would help add an insurance run when he singled to bring home Alex Bregman from second base after he had walked and advanced on a wild pitch.
"When I was running around second base, I felt the whole city moving," Alvarez said.
A three-run lead was all the Astros needed with the best bullpen in the majors. Hector Neris, Bryan Abreu, and Ryan Pressly pitched three scoreless innings to close out the Phillies and give Houston another World Series title.
"I got the greatest defense behind me and the greatest catchers behind the plate," said Pressly, who did not allow a run in 11.0 innings pitched in the postseason. "I had all the confidence in the world. You just go out there and do it."
Houston cemented their names in history as a dynasty by winning its second title in six years. Add their six consecutive League Championship Series and winning four pennants during that span, and there is no debate that this era of Astros baseball will never be forgotten.
"I always said before that if I win one, you know, I'll win two," said Baker, who has 2,093 wins as a manager. "I mean, the one was hell to get to this point. But it was well worth it. I'm in a great city, with great people, great fans, and I got a great ball club."