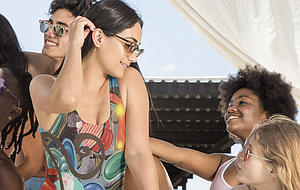 Summer is officially here and things are heating up outside. The pools and beaches are calling, so what better way to make a statement than with a statement piece? Introducing a new collection of swimwear from Veteran fashion designer Patrick T Cooper, Trunks by Patrick T Cooper is what you need for the summer season.
Inspired by street art, murals, and graffiti from his extensive travels around the world, the bold colors, and striking design palettes is what make Trunks by Patrick T Cooper a defined one-of-a-kind swimwear look. Created as a sister companion to the Patrick T Cooper original signature design, Trunks by Patrick T Cooper is a more affordable price point for accessibility to all.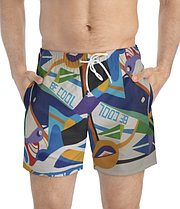 I [Reggie Dominique] caught up with Patrick T Cooper during the launch of his fashionably forward collection and here is what he had to say:
RD: Congratulations on your new swimwear line! For those who may not be familiar, tell us about Patrick T Cooper.
PC: I am a lover of color, cut, culture, design and exquisite style
RD: You've been in the fashion industry for a while now. Tell us your motivation behind your new venture, Trunks by Patrick T Cooper.
PC: To be honest, I love color and I adore the idea of being beside, laying near, or in water. It is my therapy and it is healing to be near a body of water. Initially, my first collection was dedicated to women of desired luxury and highly sophisticated garments and craftsmanship. Furthermore, I realized that I had a very limited window. To that end, I wanted to create a diffusion line that spoke BOLD & BRILLIANT COLORS that make people happy.
RD: Your collection is influenced by the colors of the season. Why is this the way you design?
PC: I don't design based on color trends I base my decision on gut intuitions which are normally 4 or 5 years ahead of any trend. When you are the forecast normally you are ahead of the trends. A designer's job is to make people aspire to be better, bold, and confident. Never be pedestrian and fit in with the masses -- opt for something unique and memorable that speaks to your hearts
RD: How is working in fashion different today than from when you started out?
PC: Oh, Reggie you are really trying to date me. Hahaha, I digress, but production, design, and marketing are all moving at warp speeds due to the impact on technology. I remember a time when photographers had to be studied in lighting and we had to wait for proofs of artwork and look at images through a loop. Now everyone is a photographer and able to edit imagery on the go with an iPhone.
RD: Does your approach differ when designing menswear compared to womenswear?
PC: No, my approach is the same for on-figure or of the figure. From designing the interior of a jet to a bikini. A designer must be able to think of the subject in a story. Who, what, and where are they going in life and what does a garment do to help them arrive feeling confident and comfortable while being fashion-forward and moreover stylishly appointed.
RD: How do you want people to feel wearing Trunks by Patrick T. Cooper?
PC: I want consumers to feel empowered. I want consumers to feel bold, free, and confident in colors that celebrate LIVING LIFE. More importantly, I want consumers to smile when they think of the brand!
RD: What have been your weirdest and wildest sources of inspiration for your brand and design directions?
PC: An avid traveler, I often find inspiration from travel destinations. It is the take-off in a jet that rushes my mind with aspirational thought and permission to think like there is no box. So, I would definitely say TRAVEL is my mind's fuel!
RD: Where can shoppers purchase Trunks by Patrick T Cooper?
PC: We are available online at trunks.patricktcooper.com
RD: 10 years from now, what do you hope to have achieved in the fashion industry with your line?
PC: 10 years from now it is my hope that I can employ young designers and other creatives and provide tutelage on what is really required to be a success. While I have had a great run and been considered what some say a trailblazer, lately, I have been thinking about legacy building and we are nothing if we don't lift while climbing and utilize our GOD-GIVEN talents to help and inspire the next generation.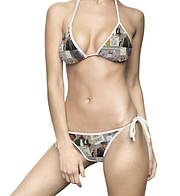 With something literally for everyone, Trunks by Patrick T Cooper is the fresh new look that you need for swimwear. From Bikinis and one-piece suits for women to swim trunks for men, and towels, there are a lot of choices that complete the line.
Showcasing inventive designs such as "The Eyes On Me," "The Flip Flop," "The Key West," "The Bourbon," "The Hot Springs," "The Golden Eye," "The Brussels," "South Africa," "The Protest" and more, pieces in the collection begin at $49.99 and are available immediately.
For more information, visit www.trunks.patricktcooper.com