After every home game the Houston Astros play on Friday nights during the season, they treat the fans to postgame fireworks. Those in attendance for their first Friday night game got a preview of what was to come during an explosive sixth inning by the Astros' dangerous lineup that produced ten runs on their way to a 13-3 win over the Chicago White Sox.
It was the first time Houston scored double-digit runs in a single inning since May 29, 2017, against the Minnesota Twins. It is also Houston's first 10-run inning at Minute Maid Park.
"Hitting is contagious and no one likes to be left out," said Astros manager Dusty Baker about the dynamic sixth inning.
Baker also reiterated that this is the type of game his team is capable of starting with the nine runs Houston scored against the Texas Rangers on Wednesday.
"It starts with one game and hopefully, two and three and four," Baker said. "Your confidence and discipline also rise; your concentration also rises. Right after that comes, hopefully, a lot of hits."
No one has had more confidence at the plate than designated hitter Michael Brantley who extended his hitting streak to 12 games on Friday night. His grand slam in the bottom of the seventh inning helped the Astros increase their lead and put the game out of reach. It was his first grand slam since May 11, 2018, against the Kansas City Royals.
Brantley didn't want the focus to be all on him after the game, as he also credited his teammates for their accomplishments at the plate.
"I just think it's a good team, with some good at-bats and some good approaches at the plate," said Brantley, who is hitting .426 during his hitting streak. "It's a special lineup, especially when it gets rolling like that."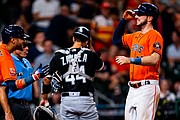 Although Brantley's grand slam was the game's highlight, he got some help from his teammates, including Kyle Tucker, Yordan Alvarez, Alex Bregman, and Yuli Gurriel, who all homered en route to the blowout against Chicago. Tucker also extended his hitting streak to 15 games, the longest in the majors.
"Any time you're scoring a bunch of runs like that, it's fun," said Bregman, whose two-run homer was his first since May 23 against the Cleveland Guardians. "But I think it's just guys putting together quality at-bat after quality at-bat and continuing to fight. Everybody in here has been working their tail off to be the best they can be, and that was a good inning for us."
Houston will play the second game of the three-game series against Chicago on Saturday as starting pitcher Justin Verlander will be looking for his ninth win of the season. The first pitch is at 3:10 p.m. CST at Minute Maid Park.