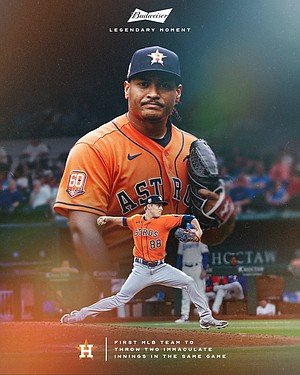 Merriam-Webster Dictionary defines immaculate as spotlessly clean, having or containing no flaw or error. Houston Astros starting pitcher Luis Garcia and reliever Phil Maton are what the definition would be if the word came to life. On Wednesday, the two teammates were part of history as they became the first players in Major League history to throw immaculate innings in the same game in a 9-2 defeat of the Texas Rangers.
In baseball, an immaculate inning is achieved when a pitcher uses nine consecutive strikes to retie three batters in one inning.
"To be a part of that and know that you made history, that's something that any player is proud of," said catcher Martín Maldonado. "I'm glad I was the catcher in that situation."
Both Garcia and Maton made history by striking out the same three Rangers hitters: Nathaniel Lowe, Ezequiel Duran, and Brad Miller. The last immaculate inning pitched by an Astro was on Sept. 27, 2019, when Will Harris completed the feat. Garcia's accomplishment was recognized by Maldonado the moment the second inning was done, but it took the help of the Astros dugout to acknowledge Maton's achievement.
"Everybody in the dugout was like, 'I need that ball! I need that ball!'" Maldonado said.
The historic moments by the two pitchers highlighted what the Astros were able to get accomplished in the final game of the series against the Rangers. They put nine runs on the board for the second time in four days, including a six-run first inning. Outfielders Michael Brantley (11) and Kyle Tucker (14) extended their hitting streaks, with Tucker's being the longest active streak in the majors.
Houston will enjoy an off-day on Thursday before opening a five-game home stand, starting with the Chicago White Sox (3) and ending against the National League East-leading New York Mets (2).