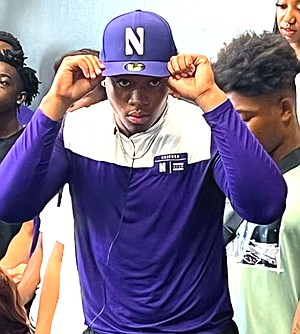 Most days inside the Ollin Athletics and Sports Medicine facilities, you will hear athletes working to improve in their individual sport that will help propel them to the next level. But on Saturday, the sounds coming out of the complex were of joy and jubilation as Cypress Ranch defensive lineman Aston Porter announced his commitment to Northwestern University.
"Academics," was the one-word answer Porter gave me when I asked him why he chose Northwestern over schools such as Texas, Arkansas, Baylor, Arizona, and Grambling. "I am trying to be the best engineer in the world. I also am very interested in sports media, and Northwestern has an excellent communications department."
The 6-foot-3, 236-pound four-star defensive lineman who currently holds a 3.95 GPA at Cy-Ranch is one of the top players at his position in the country. He received over 32 offers that included some of the top Division 1 schools in the nation after his sensational sophomore season, where he earned a unanimous spot on the district 16-6A first team.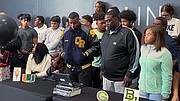 Porter was set to make his announcement at the Under Armour All-American Game in January 2023 but decided that he wanted to have the recruiting process over and done with so that he could enjoy his senior year of high school.
"I was getting stressed out talking to a lot of coaches and now I am just grateful to have picked the right school," said Porter.
Wildcats head coach Pat Fitzgerald and defensive coordinator Jim O'Neil must have made a great impression not only on Porter but his cousin Justin Cryer, a three-star linebacker out of Royal high school in Brookshire as well. Cryer, who was also in attendance on Saturday, announced his commitment to Northwestern on May 22.
Although Porter was named defensive lineman MVP at the Dallas Rivals Camp Series in April, he realizes that more work needs to be done this summer.
"I need to work on beating double teams," Porter responded when asked about his focus for the upcoming season. "I am good in one-on-ones, but I need to get better at going against double teams. Coach Marty Long (defensive line coach at Northwestern) pointed some things out to me after watching film and gave me some pointers I can take heading into the season."
Porter's announcement wasn't the only celebration of the day for the plethora of family, friends, and teammates in attendance, as plans were made to celebrate his 18th birthday at a different location later in the evening.
"Today was a very good day and I am glad I could share it with the people that love me and have supported me through this journey up to this point," said Porter.