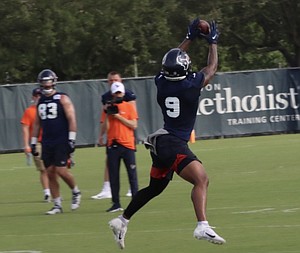 As the Houston Texans are wrapping up their final week of voluntary OTA's, a couple of former players were out in the early morning Texas heat to observe the different drills the team was going through. One player who stood out from the moment he hit the sidelines was 2022 NFL Hall of Fame finalist Andre Johnson who played for the Texans for 12 out of the 14 years he was in the league.
Johnson looked more like a media member on the sideline than a former player; as he looked at the roster, he had in his hands to match names and numbers of players who were getting reps with the second and third units. The Texans players on the field are looking to make an impression on new head coach Lovie Smith whose presence was felt throughout OTA.
Although the practices were not mandatory, most of the players attended, looking to make each rep count as the team looks to improve on its 4-13 record this past season.
"Every practice counts," said coach Smith. "So, we're taking advantage of them. It's winding down a little bit. You know, we finish up OTA practices this week and then next week we have our three-day mini-camp and then we take a break."
Taking time away from the field before training camp, which starts in late July, will be what the Texans rookies will need as they continue to prepare to transition from college superstars to NFL rookies.
"I think when initially when you come in, I let the rookies know, the veterans don't want to hear about you being young, and you don't know what you're doing," said coach Smith while answering questions after practice. "If we as coaches put you out on the football field, they expect you to perform. They read the papers, too. They know how you're drafted, how you're coming in, and you're going to have to prove it on the football field, and that's what these young guys have done.
"They seem like they never leave the building and when they get their opportunities, they are stepping up and making plays. Another part of being a rookie is keeping your mouth shut. I don't want to hear about what you've done in the past. Just come in each day and work and they will start doing more. That veteran leadership will start rubbing off on them and that's kind of what's happening right now."
Houston will play their first preseason game against the New Orleans Saints on August 13 at NRG Stadium.